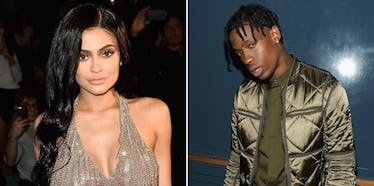 6 Adorable Photos Of Kylie Jenner & Travis Scott That Prove They're So In Love
Nicholas Hunt/Bryan Bedder/Getty Images
The wonderful world of Kylie Jenner and Travis Scott has officially exploded because baby news is in the mutha fu**in air. We thought their relationship was precious before, and now this? What are we going to do? What am I supposed to say? Why am I standing on this table? In celebrity culture, a couple honestly can't get any bigger than them, and that's why we love Scott and Jenner so freakin' much. They keep us on our toes, y'all. Although they haven't been dating for long, they're completely precious. These photos of Kylie Jenner and Travis Scott are everything, and I can't wait for more.
It all began back in April of 2017 when Jenner and Scott officially started openly dating after rumors spread that the two were an item. They began their public relationship at a Coachella party in April with several PDA-filled photos. Oh, la la! Jenner and Scott have kept their very public relationship somewhat quiet, although they put their love on top after photos emerged of their matching butterfly ankle tattoos on social media back in June of 2017. Who could forget that? Some believe their tattoos were inspired by Scott's song, "Butterfly Effect," which came out in May. Fans even believe the song is all about Jenner, which we now know is (obviously) about the superstar. Let's look back at their short love affair, and imagine how adorable they'll be as (possible) parents.
1. Cuddling On The Grass
I will never forget this photo of Jenner and Scott cuddling on the grass at Coachella in April of 2017. This is where it all began. After these photos surfaced, the internet completely blew up, because Jenner and Scott were officially an item. Boom.
2. Love Is In The Air Courtside
Remember this adorable photo from April of 2017? Oh, how cute this pair was sitting courtside. I've always wanted to cuddle up with someone at an NBA game. Although nobody would take my photo, it would still be amazing. OK? A girl can dream.
3. Paparazzi Shots
She's wearing baggy clothes and smiling and he is leading the way and protecting her. This photo is obviously going to spark pregnancy rumors. Are the reports officially true? Jenner or Scott haven't confirmed anything yet, but our fingers are crossed that these rumors are true! It could be an exciting time for the Jenner-Kardashian fam.
4. Candid Cuddling
How can anyone have paparazzi photos this cute? Please, give me your tips. If someone took my picture candidly, I would probably have three chins and food in my teeth. It would not be pretty. Let's look back at these sweet photos from June of 2017 and reminisce. How sweet are they? Also, nice ride. Mama like.
5. Riding In Cars With Travis
How cute are they? Although they don't appear to be very thrilled by the paparazzi, they're definitely chillin'! Nobody enjoys a bright camera flash in the eyes, ever.
6. The "Miss U" Pic
It's pretty obvious Jenner was sending this pic to her rapper bae. I have literally never sent a mirror selfie to a friend saying "miss you." They would be completely and utterly freaked out. Also, if I posted a photo of myself on IG with the caption, "miss u," it would not be for a random person. It would be about someone or something very serious. I do not mess around with my Instagram posts, people.
So, will Kylie Jenner and Travis Scott last the never-ending pregnancy rumors and obsessive paparazzi photos? Let's hope. The two are adorable together, and if the reports are true, they might be starting their own little family. How exciting! Go, Jenner and Scott! We love to love you!