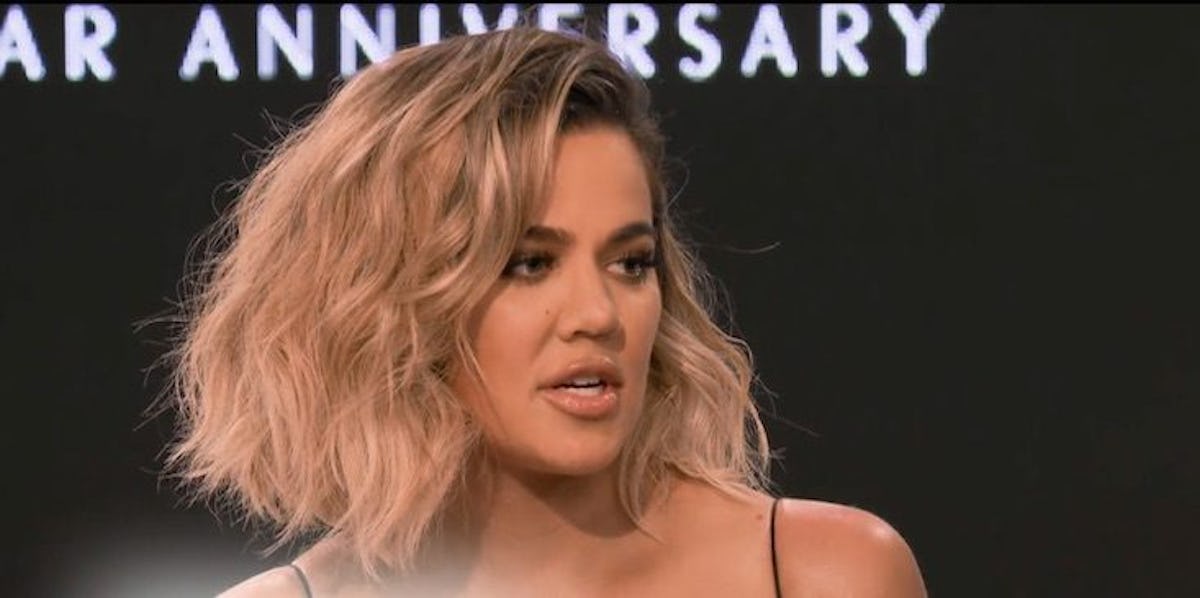 Khloe Kardashian Gets Real About Her Relationship With Tristan & Things Sound Serious
E!
The Keeping Up With the Kardashians 10th Anniversary Special does not hold back on filling fans in on insider straight from the mouths of the famous family in their own words. The Kardashian girls keep it pretty real when it comes to their personal lives -- even their relationships. All the older sisters pretty much have their turn in the Ryan Seacrest hot seat to spill on their flames, former and present. Kourtney and Scott talk about their history, Kim dishes on Kanye and Khloé opens up about her boyfriend Tristan. So, how did Khloe Kardashian and Tristan Thompson meet? Ryan wasn't shy about finding out the pair's origin story and funnily enough, even Kim didn't know the tale of their courtship. In the words of Khloé to her older sister: "Get to know me!" And so, we all did. Tristan and Khloé's meet-cute is actually pretty adorable. And relatable to boot. Nope, Khloé didn't meet the Cleveland Cavaliers player at a fancy Hollywood soiree or an award show in a way us mere mortals wouldn't understand. It was, in fact, a blind date.
"Basketball is your favorite sport," Ryan pressed jokingly to Khloé about her "type," which then opened up the door for her to launch into her version of how she and Tristan originally got together. "I was put on a blind date with Tristan, and that's how I met Tristan," Khloé revealed. We all know these sisters are super tight, but even Kim admitted "she never asked" how they initially linked up. Well, now we're all finding out together.
"Brandon Jennings, who's a basketball player — he's a friend of mine and Malika's — he was like, 'you're such a good girl, I want to introduce you to someone,'" Khloé went on. Ah, so it was a setup! More like an ambush. Brandon apparently knew how reluctant Khloe would be to go on a blind date, so the plan was for Tristan to show up at a group dinner, so he could (surprise) sweep her off her feet. "Brandon kind of ambushed the blind date," Khloé explained. "I had a bunch of people, so he brought him and we just connected." Nice one, Brandon.
So, how serious are Khloé and Tristan? Ryan inquired about which phase of the relationship the couple is in, and Khloé was her usual honest self. "Yeah, it's a serious relationship," she says.
And will we see more of Tristan on the show? "If he's around, of course, he'll be on," Khloe explained.
This isn't the first time Khloé has spoken about her feelings. She told ES Magazine that she's "never been in this type of love." When asked if she would accept his proposal, the 33-year-old denim designer admitted that she would. Swoon.
And Khloé hasn't hidden the fact that they have children on their minds. "Tristan and I definitely talk about starting a family. He wants to have like five or six kids with me, and that's lovely. We can start at one and grow from there," she said on an episode of Keeping Up With the Kardashians.
We're so happy to know that Khloé is happy and we wish her and Tristan only the best to come. It's been a long road for these ladies, and the Keeping Up With the Kardashians special only reminds us of everything they've gone through over the past years. And how far they've come. Just look at the new snazzy opening credits. Yes, there are hints of that iconic original sequence, now with more helicopters and arguably better styling. 10 years strong, indeed. See you guys for the next anniversary in 2027?