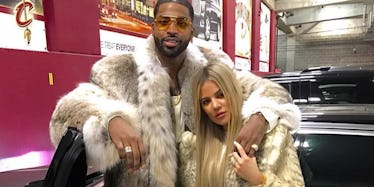 Khloé Kardashian Says She's Ready To Marry Tristan Thompson So Sorry, Lamar
Instagram
Since September 2016, Khloe Kardashian and NBA player Tristan Thompson have been closer than ever. Now, the 32-year-old star says she's ready to marry him.
Following the finalization of her divorce from ex-husband Lamar Odom in December 2016, Khloé is hinting she's ready to take the next step on her journey to eternal love with Thompson.
In a recent interview with ES Magazine, the Good American co-founder opens up about her romance with the 26-year-old Cleveland Cavaliers baller, saying she's "never been in this type of love."
When asked if she'd accept a marriage proposal from Tristan Thompson, Khloé confidently stated,
Yes, I would.
The woman knows what she wants -- no hesitation necessary.
She went on to reveal she and Tristan have spoken about sharing a family together in the near future,
I would love to have a family. We've talked about it. He [already] is a father, and I know for a fact that he would be an impeccable father.
Damn, it looks like things are pretty serious between these two lovebirds, huh? Perhaps a lot more serious than you'd probably think considering the fact they've been together for under a year.
But hey, love is love and only you know when it's real! Sorry, Lamar.
In the same interview with ES Magazine, Khloé Kardashian went on to talk about the traumatic robbery Kim experienced during Paris Fashion Week last year.
A fed up Khloé said,
I get really angry when people blame her for her robbery — I think that is the most irresponsible accusation. I don't care how little or how much you have, nobody deserves to be violated and robbed and assaulted and traumatized. I got very frustrated with that and [the suggestion that] 'Oh, this was scripted' or 'We planned it.' What is wrong with human beings?
That's a valid question, KoKo. What the hell is wrong with all of us?
We must do better... But before we do that, we need to know where and when this wedding is going down (propose, Tristan). Priorities!
Khloé's full interview with ES Magazine hits newsstands on Wednesday.
Citations: Khloe Kardashian Is Ready to Marry Tristan Thompson (E! News)