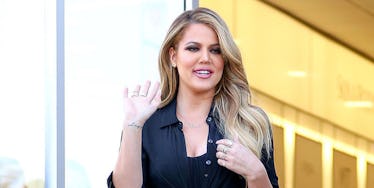 Everything We Know So Far About Khloé Kardashian's Brand New Denim Line
REX/Shutterstock
It's not enough that the Kardashian family — American royalty as we've rarely seen it — owns your hair, nails, tan, diet, waistline and (by extension of Kanye West) wardrobe.
Now, it'll also control your denim.
That's right: Khloé Kardashian, the sister best known for dropping incredible amounts of post-divorce weight, is releasing her own line of jeans.
While the details are only emerging slowly, here's what we do know:
Khlo-Money's calling the line "Good American," and releasing it in partnership with ITB head Emma Grede.
Women's Wear Daily (WWD) reports the ads may feature real women as models, in an attempt to welcome every kind of lady into the Kardashian-booty fold.
According to newly opened social media accounts, the official brand name for fans is the #GoodSquad.
Khloé, who's promoting the line to New York City press at the time of publication, is well known for her tiny waist and oversized derriere.
Speaking as a woman with similar proportions, finding jeans is nearly impossible unless they're being custom tailored.
My one hope was Levi's Curve ID jeans, which the brand discontinued in favor of its one-stretch-fits-all 800 series (definitely nowhere near as good, either). Is Khloé here to clothe the bootylicious and give curves to the thin?
The youngest Kardashian daughter tweeted she feels "so blessed to be able to bring this line to women everywhere of ALL shapes and sizes."
Thank you!!! I'm freaking out!!!!! https://t.co/Chn1UjDWyi — Khloé (@khloekardashian) September 21, 2016
Good American will be available in sizes 0 to 24, as well as three styles: the high-cut Good Waist, the boyfriend-style Good Cuts and the jegging-like Good Legs.
Right now, not much information is available on Good American's actual social media pages and website. There's an image of Khloé's famous body wrapped in an American flag and an invitation to sign up for an email list in advance of the brand's October 18 launch.
WWD adds the collection will even include a few sportswear pieces, bodysuits and sweatshirts.
Ready to shop? Well, you'll have to wait a few weeks.
When Good American finally gets going, it will be available for purchase through both Nordstrom and its own online store.
Prepare your behind accordingly.