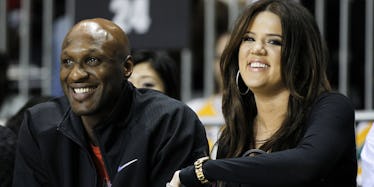 Khloé Kardashian's Divorce From Lamar Odom Finalized And It's An Era's End
REUTERS
It's finally happened. Khloé Kardashian and Lamar Odom have officially cut legal ties.
According to the Associated Press, 32-year-old Khloé Kardashian and 37-year-old Lamar Odom are no longer married.
The report states that a Los Angeles judge finalized their divorce on Friday, December 9 and that the paperwork becomes effective as of December 17.
The end of Khlomar marks the end of an era. Let's all take a moment of silence, shall we?
While their divorce might be heartbreaking to fans and supporters who wanted their marriage to last, both Khloé and Lamar have sought to end their marriage over three years ago.
Khloé first filed for a divorce in December of 2013 after four full years of marriage. Things just weren't working out.
However, the reality TV star rescinded the divorce filing in 2015 when Lamar Odom was rushed to the hospital after being found unconscious at a brothel in Nevada.
Some people thought Khloé and Lamar might try to finally work things out between each other, but after Lamar was released from the hospital, Khloé refiled for divorce and cited irreconcilable differences in May.
This sucks, guys!
I admit, I thought they were going to last and ride off into the sunset as they flipped the bird at the longtime haters. But nope, I was very wrong. We all were.
The good news here is that Khloé and Lamar don't have any children together. That would have made for a far more painful divorce for us to witness go down right before our eyes.
Instead, they have a company together that they called "Khlomar," the nickname given to their relationship once they began dating back in 2009.
Now that the divorce is officially complete, the Associated Press reports that their company will now dissolve and no longer exist.
*sheds a single tear*
WHY? WHY? WHY?
OK, I'm done. I've gotten all of the burning questions out of my system. Moving forward, I wish Lamar Odom and Khloé Kardashian well in their new lives.
Despite the fact that their bond is no longer there, we will never forget the times Khlomar made us all believe in true love.
*SOBS HYSTERICALLY*
Citations: JUDGE FINALIZES KHLOE KARDASHIAN'S DIVORCE FROM LAMAR ODOM (Associated Press)