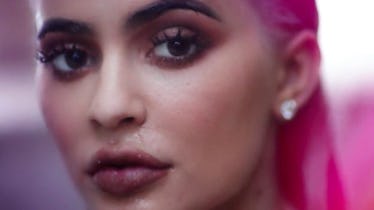 The Trailer For Kylie Jenner's New Reality Series Is Here And We Want More
E!
The trailer for Kylie Jenner's new reality show, "Life of Kylie," just dropped and fans of the Kardashian/Jenner clan are definitely going to be pleased.
The show is set to premiere Thursday, July 6, at 10 pm EST on E!, and it focuses on the life of the youngest Jenner/makeup mogul.
Kylie herself tweeted the trailer around 3 pm this afternoon.
The whole trailer is a bunch of neon lights in the shape of Kylie lips, lightning bolts, diamonds -- literally anything Kylie likes, I guess -- and it's paired with a voiceover from Jenner throughout.
It's literally the most Kylie Jenner thing I've ever seen.
She says,
When you grow up on camera, everybody feels like they know you, but they don't. Nobody has a perfect life. Now I can find what really is going to make me happy. There's an image that I have to keep up with, then there's me: Kylie.
The trailer starts off with a neon sign in the shape of Kylie's famous lips. They look just like the lips from the design on the boxes of her lip kits.
Then she says, "When you grow up on camera, everybody feels like they know you," and it cuts to two shots of Kylie as a kid, and present-day Kylie with a friend.
Then the trailer jumps through a lot of pictures of Kylie on red carpets and waving to fans, followed by a cut to this ~mysterious~ pic of her face in a triangular neon sign.
Then she says, "But they don't," and BAM: glam shot. ~YOU DON'T KNOW ME~.
The trailer then goes on to list all of Kylie's accomplishments since becoming the most famous member of the Kardashian/Jenner family. (Sorry, Kim.)
And of course, the Kylie lip kits make an appearance.
The video is only 30 seconds long, but we still get a good taste of what the show is going to be like. It's a lot of neon, and a lot of selfies of Kylie.
Oh, and just in case we forgot how to spell her name (it's with a K), she spelled it out for us in balloons.
And these skulls are kinda cool, TBH.
There you have it folks. "Kris Jenner Tries To Appeal To Millennials," uh... I mean... "Life of Kylie" is coming to a TV near you with two back-to-back episodes on July 6 on E!.