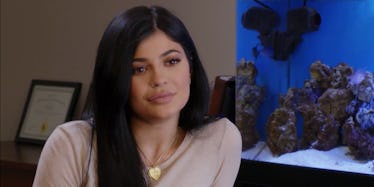 Kylie Jenner Might Swear Off Social Media If She Becomes A Mom — Here's What We Know
E!
If there is one person who has the power to control headlines, you better believe it's Kylie Jenner. On Friday, Sept. 22, news broke that the 20-year-old socialite and beauty mogul might possibly be pregnant with her her first child (supposedly a girl with 25-year-old boyfriend, rapper Travis Scott). As a result of the rumors, the internet practically imploded. But the queen of barely-there selfie ensembles and cryptic Instagram captions might change her ways in the name of motherhood. Apparently, Kylie Jenner will swear off social media if she's raising a tiny tot.
Take a moment to let that sink in. The youngest of the Kardashian-Jenner crew is willing to forgo her hundreds of million followers if she brings another life into this world. Do you believe it? In a summer 2016 interview with Allure, Jenner said, "Once I have a kid I'm not going to be on Instagram. You know, I'll probably delete my Instagram and just … I don't know, live life," she said, according to PEOPLE.
"Just live life." It seems unheard of for a member of the Kar-Jenner crew to not constantly keep their fans in the loop. You have to wonder if Jenner herself even remembers making such a statement. If she does in fact remember, do you think she's strong enough to stick to her promise?
Well, the kid isn't here as of yet, so she can continue to post whatever she wants... and she did. On Sunday, Sept. 24, Jenner teased her followers with two photos and captions that don't even slightly allude to the rumors. She's playing it cool while everyone else is freaking out in the interim.
One photo features the reality star and lip kit maven's BFF, Jordyn Woods, in honor of her "cute" birthday. The photo captures the dynamic duo petting a giraffe, apparently on the safari trip that was part of Woods' birthday festivities. One of Jenner's arms is around her gal pal, the other is slightly lifting up her shirt, so naturally everyone's trying to figure out if she looks like she has a bun in the oven. Very coy.
The other photo features the girl squad in white robes apparently indulging in some type of spa day. This caption also refuses to give anything away and simply reads, "Mornings :)" Well, that definitely doesn't clear anything up now does it?
Kylie's BFF also decided to get in on the cryptic caption action. She took to Instagram to post a photo in a hot air balloon, all courtesy of her best pal. The caption read, "Yesterday was a dream... @kyliejenner surprised me with a sunrise hot air balloon ride... bucket list✔️." These ladies are certainly enjoying keeping everyone in the dark.
So whether or not it's actually true, everyone's keeping things hush-hush... Jenner's parents included. Caitlyn Jenner's response to Kylie Jenner's reported pregnancy has yet to come. Elite Daily reached out to Kylie Jenner's and Caitlyn Jenner's teams for comment, but has yet to hear back. On the other hand, momager Kris Jenner's response was more confusing than Caitlyn's silence. In an interview with The Cut, she said,
I just woke up this morning. She's not confirmed anything. I think it's kind of wild that everyone is just assuming that that's just happening.
It might be kind of wild, but then again, nothing is out of the ordinary when it comes to this crew. For those who are ever so patiently waiting for Kardashian/Jenner news, you can also ponder whether or not Scott Disick and Sofia Richie are really dating. Their celebratory cake and make-out sesh during a dinner with friends on Sept. 23 might indicate that things are getting hot and heavy... but then again, who knows?
Way to keep everyone guessing, you guys.
Check out the entire Gen Why series and other videos on Facebook and the Bustle app across Apple TV, Roku, and Amazon Fire TV.