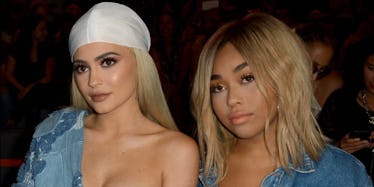 Jordyn Woods Posts Instagram Caption About Kylie Jenner Following Pregnancy Reports
Getty Images/ Gustavo Caballero
After news broke on Friday, Sept. 22. that Kylie Jenner is reportedly pregnant with Travis Scott's baby, everyone is looking to the 20-year-old reality star's circle of family and friends for a response. On Sunday, Sept. 24, Jenner's BFF Jordyn Woods responded to Kylie Jenner's pregnancy reports with a pretty sketchy caption on Instagram.
Elite Daily reached out to Kylie Jenner and Travis Scott's teams for comment, but did not hear back by time of publication.
Before we get into Jordyn's cryptic message, let's quickly recap all the news about Kylie Jenner's reported pregnancy because there's been a lot. According to TMZ, 25-year-old Travis Scott has reportedly been telling friends for months about his girlfriend's pregnancy. On top of that, the couple is reportedly having a girl. THAT'S RIGHT, Kylie Jenner is reportedly expecting a daughter. A source reportedly told People magazine, "They started telling friends a few weeks ago... The family has known for quite some time. She is really excited and so is Travis." OH, OK. MAKES SENSE. WTF? 
Another source reportedly added,
It is an unexpected but completely amazing turn of events that she could not be more excited or thrilled about.
What's even crazier is that Kylie Jenner is reportedly four months pregnant and the couple reportedly started to tell friends about the news in July. An insider told People, "[Travis Scott] was so excited he couldn't keep it in ... He's been so affectionate and protective of Kylie since they found out. He can't wait to be a dad."
Alright, so now that we got all of that out of the way, let's talk about Jordyn Woods. If you follow Kylie Jenner's life or watch Life Of Kylie every Sunday night (who's with me?), you'll know the 20-year-old model is Kylie's BFF. Therefore, when she added a selfie on Sept 24. with the caption, "Yesterday was a dream... @kyliejenner surprised me with a sunrise hot air balloon ride... bucket list," the entire world was confused AF.
OK, OK, OK. So you're telling me the entire world was freaking out about Kylie Jenner's pregnancy reports on Friday and then on Saturday, rather than commenting on the news or crafting the perfect social media response, Kylie Jenner decided to surprise her BFF with a sunrise hot air balloon ride?
Something just isn't adding up. According to social media, it looks like Kylie Jenner and her friends aren't acknowledging the pregnancy and just living their lives like nothing happened. Jenner broke her silence following the reports by adding a casual pic of her and her BFFs wearing robes and taking selfies.
All she did was caption the post "mornings" with a smiley face. UM, EXCUSE ME, KYLIE? CAN YOU SAY SOMETHING ABOUT YOUR FUTURE BABY?
Shortly after, Kylie Jenner added a second Instagram picture, except this time it was also about the hot air balloon trip with Jordyn.
She captioned the post, "yesterday was cute. hope you had the happiest of birthdays Jordy. Love you forever ever and beyond.."
OOOHHH, OK, we have more context now. I guess Kylie Jenner is the type of best friend who wouldn't miss Jordyn's birthday for anything, not even during a time when the entire world is talking about her pregnancy reports. BFF goals, yo. That's for sure.
At this point, it's unclear what's real and what's not when it comes to Kylie Jenner's reported pregnancy –just ask Kris Jenner. When the momager was  interviewed at Bottega Veneta and asked about her daughter's pregnancy rumors, the 61-year-old responded,
I just woke up this morning. She's not confirmed anything. I think it's kind of wild that everyone is just assuming that that's just happening.
Same, Kris, same.
More to come...