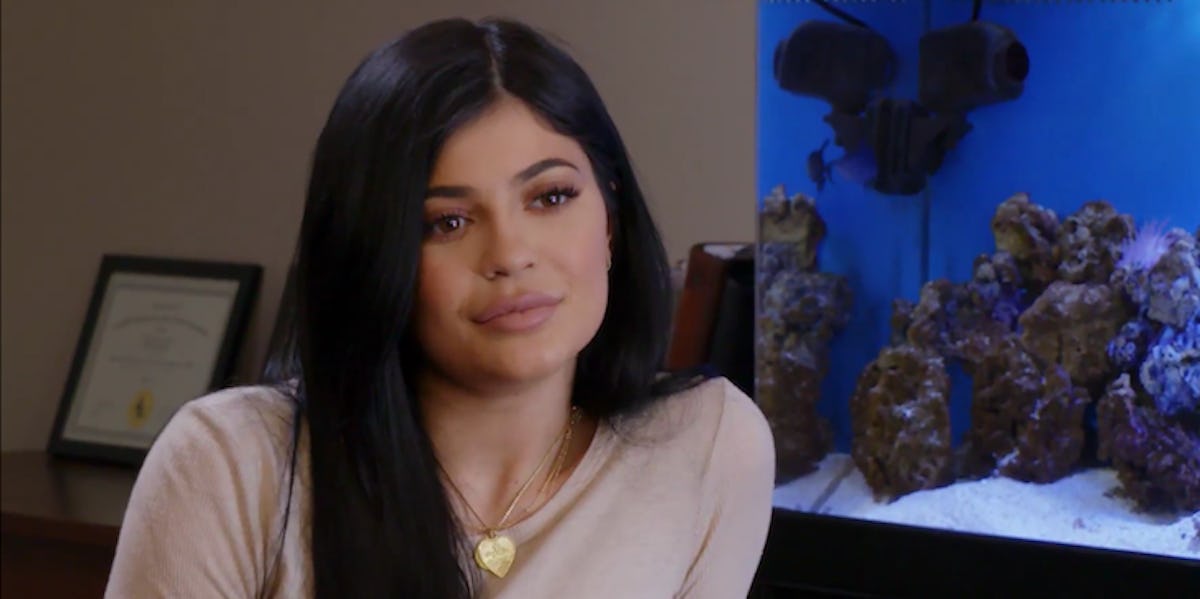 This "Clue" That Kylie Jenner Is Pregnant Gives Those Reports Some More Weight
E!
Guys, I was literally just blindsided with the news that Kylie Jenner is reportedly pregnant, according to TMZ, with boyfriend and rapper Travis Scott's baby. I know, I know. I'm dying, too. I haven't stopped hyperventilating in an hour. I mean, can this possibly be true? Well, if you're a big ol' skeptic like I am, this "clue" that Kylie Jenner is pregnant, which she just posted on Instagram yesterday, could be tying everything together and giving all these source claims a liiiiiiittle more weight. But still, let me just tell you, I have literally never been more done with anything in my life.
Update: On Sunday, Feb. 4, Kylie Jenner confirmed her pregnancy in an Instagram post. She welcomed a daughter on Thursday, Feb. 1.
Earlier: Elite Daily reached out to both Jenner and Scott's teams about the unconfirmed pregnancy report, but did not hear back by time of publication.
On Sept. 22, a source claimed to TMZ that 20-year-old Jenner and 25-year-old Scott, whose real name is apparently Jacques Webster (I couldn't make this sh*t up if I tried), have been telling friends the ~good news~ starting a few weeks ago. Another source claimed to People, "They started telling friends a few weeks ago. The family has known for quite some time. She is really excited and so is Travis!" The same source also claimed that Kylie is reportedly expecting the baby in February. I'M SORRY, BUT HOW DID THEY KEEP THIS A SECRET FOR SO LONG??? There is no way. I am done. I am shook.
Anyway, here is the Instagram in question:
YOU GUYS, THAT'S LITERALLY HER WITH A MINI HER, CAPTIONED WITH A HEART-EYE EMOJI. WHAT MORE PROOF DO WE NEED? OK, kidding, we still need a lot more proof to confirm this pregnancy, but, I mean, come on. Jenner reposting fan art — which she doesn't do very often, I might add — of grown-up her and a LITTLE MINI ME? News that she's reportedly pregnant coming out literally a day later? A source claiming to TMZ that Travis has been telling his friends the two are having a little girl? Am I dreaming? Or does it seem like everything is starting to make... sense?
Another source has also claimed to Page Six that Kylie "has been looking pregnant" for approximately four whole months now. FOUR MONTHS, YOU GUYS. THAT'S SO MANY MONTHS. And yet another source (Jesus Christ, how many sources know this?) has claimed to People, "It is an unexpected but completely amazing turn of events that she could not be more excited or thrilled about."
The unnamed sourced continued, "Everyone is overjoyed for her. This is the happiest she's ever been." You guys, how crazy is this? Jenner and Scott just started dating back in April, not long after her breakup with her ex-boyfriend and rapper Tyga. CAN THEY JUST LET ME LIVE? Please.
OK, OK, OK, yes, this Instagram is a little sus, and yes, it seems like timelines are starting to fall into place, but that still doesn't mean these reports are true. I mean, I look pregnant pretty much after just looking at a Crunchwrap Supreme from Taco Bell, but last time I checked, I'm fetus-free. So until Jenner, Scott, or a member of the Kardashian clan wants to still my over-beating heart and confirm or deny this rumor, we'll just have to wait to find out if we'll be seeing a mini Kylie in the near future. And according to a Page Six, a source claims that confirmation from the family may be coming sometime today, Sept. 22.
From the looks of it, though, there won't be a shortage of babies in the Kardashian clan, as Kim and Kanye are hoping to bring in baby number three sometime soon as well.
Godspeed, Kardashian/Jenner fans. Hopefully, everyone will give us a second to breath sometime before we die. Unlikely, though.