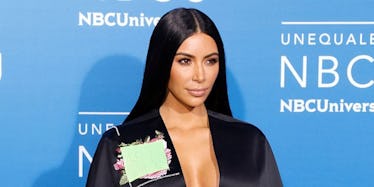 Kim Kardashian Speaks Out About Surrogate Rumors: "We've Never Confirmed Anything"
Taylor Hill/Getty
Unless you've been living under a rock for the past decade, you know that you really shouldn't mess with the Kardashians. Earlier this summer, Kim Kardashian and Kanye West may have reportedly hired a surrogate to carry their third child, but you're not going to pry any juicy deets out of the reality star. In fact, she took to the red carpet for New York Fashion Week on Sept. 8 and refused to say much about her family. However, Kim Kardashian did address surrogate rumors to E! News, and what she said will probably shock you.
But first, let's back up a bit. According to a report from TMZ, Kardashian and West opted to hire a surrogate to carry their child because Kardashian struggled with two very difficult pregnancies. Sources also told People Magazine that Kardashian and West have been "incredibly involved" in the process and are "super adamant" that their surrogate eats a healthy diet. One source explained,
Kim and Kanye both want the healthiest baby possible and are making sure the surrogate is abiding by the routine they've set for her.
Believe it or not, Kardashian (kind of) addressed the speculation on Sept. 8 when she spoke to E! News. She confirmed that she heard the rumors but wouldn't be commenting the surrogacy yet. Kim said,
I've definitely seen a lot of things, we've never confirmed anything. So, I think when we're ready to talk about it we will, and I think it's super invasive when people are just... So many details out there, and like I've never heard this, I've never heard this. Like whatever. We have not confirmed it, and that's that. I'll let you know when we're ready.
All speculation aside, Kardashian has definitely spoken openly about the incredible amount of pain she experienced during her previous two pregnancies. This was due to a life-threatening condition called placenta accreta, which involves the placenta embedding too deeply into the uterus. After giving birth to North West, Kim K penned a candid account of the experience on her blog. She wrote,
My doctor had to stick his entire arm in me and detach the placenta with his hand, scraping it away from my uterus with his fingernails. How disgusting and painful!!! My mom [Kris Jenner] was crying; she had never seen anything like this before. My delivery was fairly easy, but then going through that — it was the most painful experience of my life! They gave me a second epidural but we were racing against time, so I just had to deal."
While she's clearly being quiet at the moment, Kardashian already opened up about the fact that that her and West definitely want a third child. Back in August, she told The Hollywood Reporter that the two were still trying for a baby, saying,
I hope so. There have been a lot of things said, and Kanye and I have not confirmed anything. We're definitely trying. We are hoping so.
Excruciating pain and surrogacy rumors aside, the good news is that the couple is expecting a girl, which means that the Kardashian dynasty shall live on forever and ever. Are any of us really complaining? I mean, that just means that somewhere down the line, we'll gain one more impeccably curated Instagram account to obsess over and quietly feel weird amounts of jealousy from.
Let's face it: when West and Kardashian set their minds on having a baby, they really go for it. Loyal Keeping Up With The Kardashian fans might remember that back in 2015, Kim K said the couple was having sex "500 times a day" in an effort to procreate. And they were doing it pretty much everywhere.
I was like, 'I'm ovulating today!' So I made him come to my photo shoot. You know what, I don't feel bad about that for one second. You gotta get it in where you can get it in.
Yup, you do you, Kim. Whether all of this surrogate business is true or not, the world will definitely welcome another sassy, shiny-haired Kardashian into the mix.