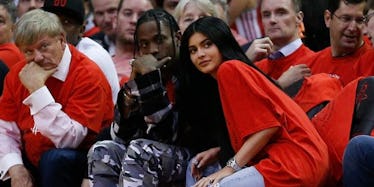 Travis Scott's Name Isn't Actually Travis Scott & His Real Name Will Blow Your Damn Mind
Bob Levey/Getty Images
OK, there is a lot to be shook over when it comes to Travis Scott right now, but I just discovered something that may be the most shocking yet. Travis Scott's real name is Jacques Webster and everything I thought I knew about the rapper is a lie. I have goosebumps... get it?
Yes, I know that there have been reports that Kylie Jenner is pregnant with Scott's baby, which neither of them have confirmed, but this simple discovery about Scott has totally distracted me from that. (Elite Daily reached out to Jenner and Scott's representatives for comment on the reports and did not receive a response at the time of publication.) We're not going to find out for sure if Jenner is actually pregnant until she confirms it herself, but in the meantime, we can learn more about Scott's alter ego, Jacques Webster. Or is Travis Scott the alter ego?! I have so. many. questions.
One of those questions, obviously, is how exactly Jacques Webster became Travis Scott, since the names don't exactly have anything in common. Luckily, in a 2014 interview with Grantland, Scott (or Webster?!) explained the name change:
"My uncle's name is Travis. He was like my favorite uncle. My favorite relative," Scott said. He continued,
I looked up to him and sh*t. That n**** was just cool as f*ck. He always just had swag. He played golf and sh*t. He just had swag. That n**** was just smart. Always made good decisions, good business decisions.
I know what you're thinking, what about the Scott part? Well, apparently that comes from his uncle too. Scott elaborated on his stage name in a 2015 interview with Complex. At first, it's a similar to the explanation he gave Grantland.  "My favorite uncle's name is Travis. That n****'s just smart and cool," he told Complex. 
He then continued and explained the second half,
The Scott comes from him, too, that was his nickname. I was, like, man, if I wanted to be a rapper I wanted to be this n****. He has this ill-ass crib, is fresh as hell, has all this land. N**** is smooth. Travis is smooth. I've always been smooth.
So there you have it, Scott came up with his rap name as an homage to his really cool uncle. But he hasn't totally left his real name behind. He actually refers to himself as Jacques in some songs — usually in the past tense. Take "Wasted," for example, which you can listen to below.
In the first verse, Scott raps,
I've been grinding, slaving over time since I was a fan Looking in the mirror like "One day, Jacques, you gon' be the man"
Apparently, even back in his Jacques days, Scott new big things were coming.
In another song, "Pray 4 Love," he raps about turning from Jacques into Travis Scott.
Let me tell the lost tale about Jacques Let me tell you how I turned Scott How I went down on the block Waterfall around ten o'clock
And in "90210," Scott says,
Jacques turn La Flame, now he rolling on an Addy
So Scott clearly hasn't been hiding his real name from fans, but for anyone who wasn't listening closely enough (like me, apparently), it can be pretty surprising. Now, this raises another question: What does Kylie Jenner call him? Travis or Jacques? And if she actually is pregnant with his baby, as reports claim, would its name include Webster or Scott? Neither?
Whenever Scott and Jenner come forward to confirm or deny the claims, I hope they can take a moment to clear this up. The curiosity is killing me.