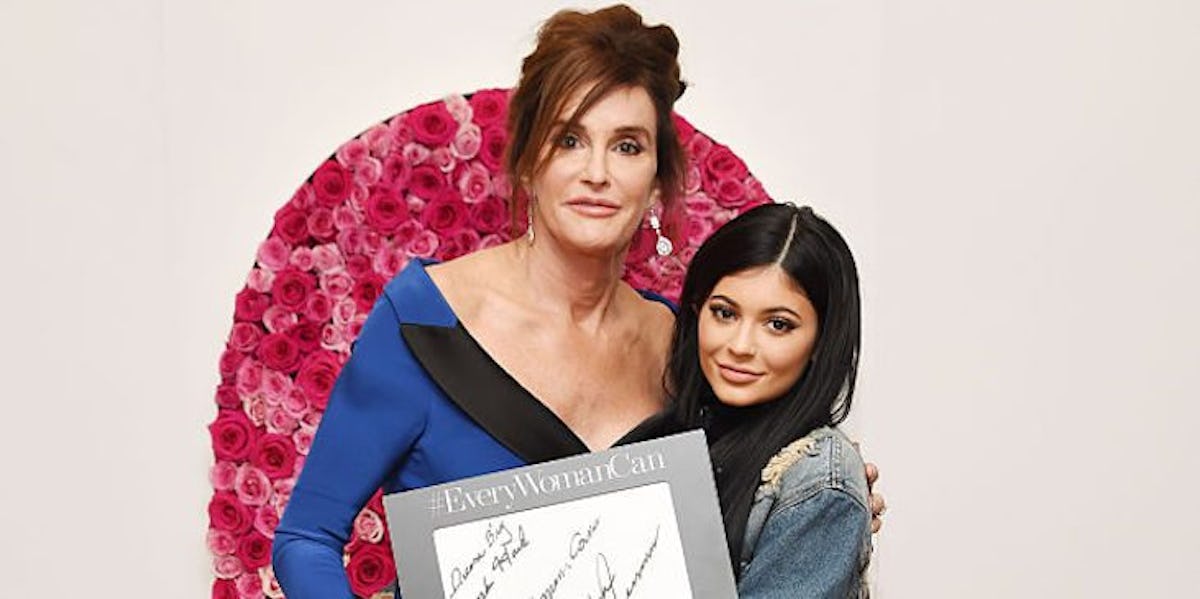 Caitlyn Jenner's Response To Kylie's Reported Pregnancy Proves They're Staying Silent
Nicholas Hunt / Staff / Getty Images
If you thought Kardashian bombshells could no longer surprise you, then you probably weren't prepared to be shook by the news that came on Friday, Sept. 22. I bet you'll always remember where you were when you heard that Kylie Jenner is reportedly expecting a child. That's right, the youngest of the Kardashian crew is reportedly pregnant with her boyfriend, Travis Scott. Now, pretty much anyone within six degrees of Kardashian separation is going to have something to say about the reported pregnancy -- but I'm interested in what Kylie's parents, Kris Jenner and Caitlyn Jenner, have to say. Caitlyn Jenner's response to Kylie Jenner's reported pregnancy didn't come yet, so there are still a lot of questions that need answers.
Elite Daily reached out to Kylie Jenner's and Caitlyn Jenner's teams for comment, but did not hear back by the time of publication.
OK, there is one big question that needs to be answered, but it seems like we all still have to wait for that (Is Kylie even pregnant?!). Kris Jenner's response was short, vague and left more questions than it answered. Luckily, this isn't the first time that the Jenners have discussed the topic of Kylie having a baby, though. Back in January 2016, the subject was broached on an episode of Keeping Up With The Kardashians while the family was celebrating Kim's baby shower, and we actually got to hear Caitlyn's thoughts about grandchildren.
US Weekly showed a clip of Kylie, her then-boyfriend, Tyga, and Caitlyn discussing the best age to have a child. Caitlyn suggested 30 as a good age to start having children, and Kylie disagreed because she felt that was "too late." Kylie offered up 25 as the right age to start having kids. Now, the convo didn't get too in-depth, but you do hear Caitlyn telling Kylie that she would like to have 30 grandchildren, with Caitlyn further explaining that means Kylie needs to have three. Kylie goes on to say that, "Every psychic says I'm going to have two kids." Maybe this rumored Kylie pregnancy is the start of that.
The Kardashian-Jenners are no strangers to big families, and with this new rumored pregnancy, the brood is only going to get bigger. If you watch the show, you'll see that the family likes to be there and support one another through all of their major life events. Having a baby -- your first, no less -- will definitely qualify as a major life event. Even though the family has gone through some changes over the past ten years since their show first aired, the ups and downs have brought some of them closer.
Caitlyn and Kylie seem to have maintained a good relationship throughout Bruce Jenner's journey to transition to Caitlyn Jenner. It couldn't have been easy on Kylie, but as she told Ellen DeGeneres back in Nov. 2015, "I got through it, and now, I almost, I like it a lot better. [Referring to Caitlyn] I like her better than Bruce." If the pair could be there and support one another through such an emotional and complicated process, then it looks promising that Caitlyn will be right there with Kylie to help as she will reportedly have her first child.
Kylie's boyfriend and reported father of the reported baby, Travis Scott, will likely be in the picture as well, as the couple prepares to raise their first child together. According to a source who spoke to People, Scott has reportedly known about the baby for "quite some time." The source added, "She is really excited and so is Travis."
As with all things Kardashian, there is bound to be some drama, so Kylie's ex-boyfriend, Tyga, stepped right up, allegedly posting this controversial Snap, claiming to be the father of the reported baby.
You guys, this is just the beginning, so stay tuned.