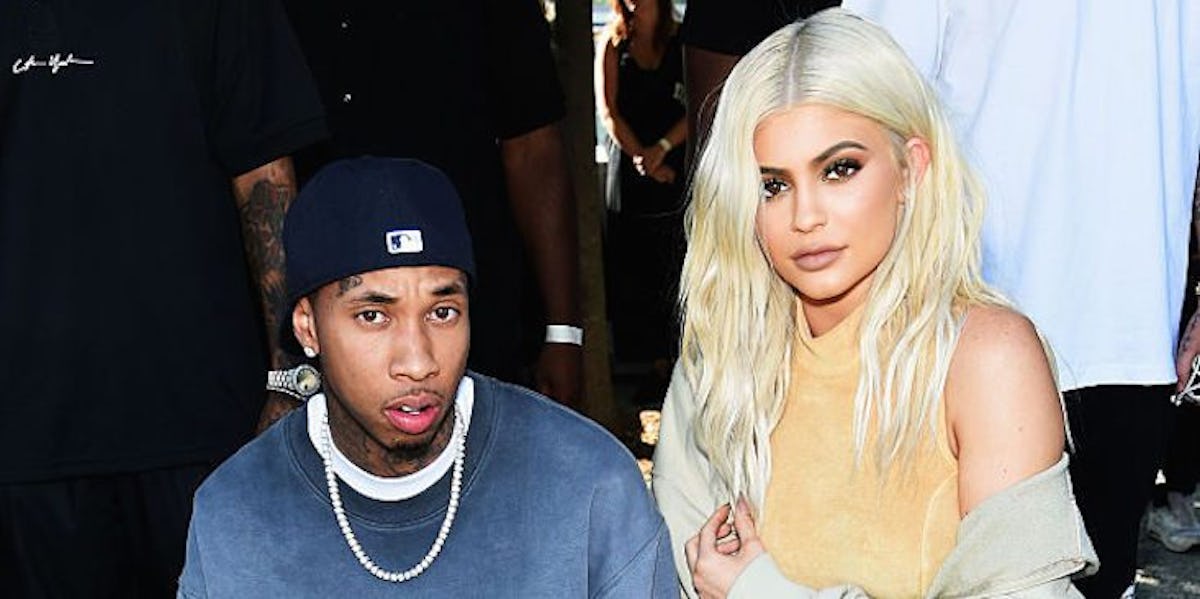 Tyga May Have Responded To Kylie Jenner's Reported Pregnancy With Deleted Snapchat Post
Jamie McCarthy/Getty Images for Yeezy Season 4
News broke on Friday, Sept. 22, that Kylie Jenner is reportedly pregnant with Travis Scott's baby. THAT'S RIGHT, the youngest member of the Kardashian-Jenner fam is expecting her first child, according to reports. Right on cue, Kylie Jenner's ex Tyga reportedly posted a savage post in response to reports his ex-girlfriend is pregnant with another man's child. If you were too late to the party, have no fear, because we have screenshots of what's rumored to be Tyga's deleted Snapchat about Kylie Jenner's reported pregnancy. YOU WANT THE RECEIPTS? MAMA'S GOT 'EM.
Elite Daily reached out to Kylie Jenner's, Travis Scott's, and Tyga's teams for comment, but did not hear back by the time of publication.
Before I continue, you should probably take into consideration that there are a lot of rumors flying around today and this screenshot could easily be photoshopped. Tyga has not commented on the image that's circulating, so like, who really knows what's real these days. HOWEVER, I'M A BELIEVER OF THE PEOPLE. And if some random person on Twitter hiding behind their computer says Tyga posted this pic on Snapchat, I'ma believe them.
Here is the screenshot everyone is talking about. Take a look and decide for yourself if you think it's real. (The heart wants what it wants, OK?)
Yup, you read that right. According to Twitter, Tyga reportedly uploaded a picture of TMZ's article to Snapchat and commented,
Hell nah thats my kid
So far (as of 9:45 p.m. ET on Sept. 22), none of the Kardashian sisters have responded to the reports about Kylie Jenner's pregnancy. Kim Kardashian, Kourtney Kardashian, and Khloé Kardashian literally all posted updates about their apps instead of wishing their lil sis a big "congrats!!!" on social media. So, do we really think the first person to respond to this HUGE news was Tyga? LOL, honestly, yeah... or it could be Rob. TBH, that boy is always in hiding, but I feel like he'd break his silence to comment on this one.
BUT BACK TO KYLIE JENNER AND TRAVIS SCOTT. Have I mentioned the two are reportedly having a baby? If you want more details, we've got them. According to TMZ, a source close to 25-year-old Travis Scott says the couple is reportedly expecting a girl. TMZ cannot verify the news yet, but fans can definitely start to get excited. On top of that, a source reportedly told People Kylie Jenner is due in February. The source reportedly added: "They started telling friends a few weeks ago. The family has known for quite some time. She is really excited and so is Travis!" UMMM, OK, WTF?
You're telling me Kylie Jenner has reportedly had a fetus forming inside of her for like 120 days or so and we are JUST FINDING OUT ABOUT IT NOW? Kylie, I thought we were closer than this?
Another source close to the Jenner family (for real though, who are all these sources???) told People, 
It is an unexpected but completely amazing turn of events that she could not be more excited or thrilled about.
They added,
Everyone is overjoyed for her. This is the happiest she's ever been.
If you've been checking out Kylie Jenner's social media accounts all day to see if the 20-year-old star has posted any updates about the reports, then you'll be disappointed to know she hasn't. For the last week or so, she's just been adding old pictures of herself, you know, to probably hide her baby bump. (WTF, KYLIE JENNER HAS A BABY BUMP? I NEED TO SIT DOWN IMMEDIATELY.)
I don't know much about pregnancy (I can barely tie my shoes), but I do know babies vomit and sh*t a lot, so I'm super excited to see Kylie Jenner take care of a child if one is actually on the way. Life Of Kylie Season 2 is gonna be dope, yo!!!!