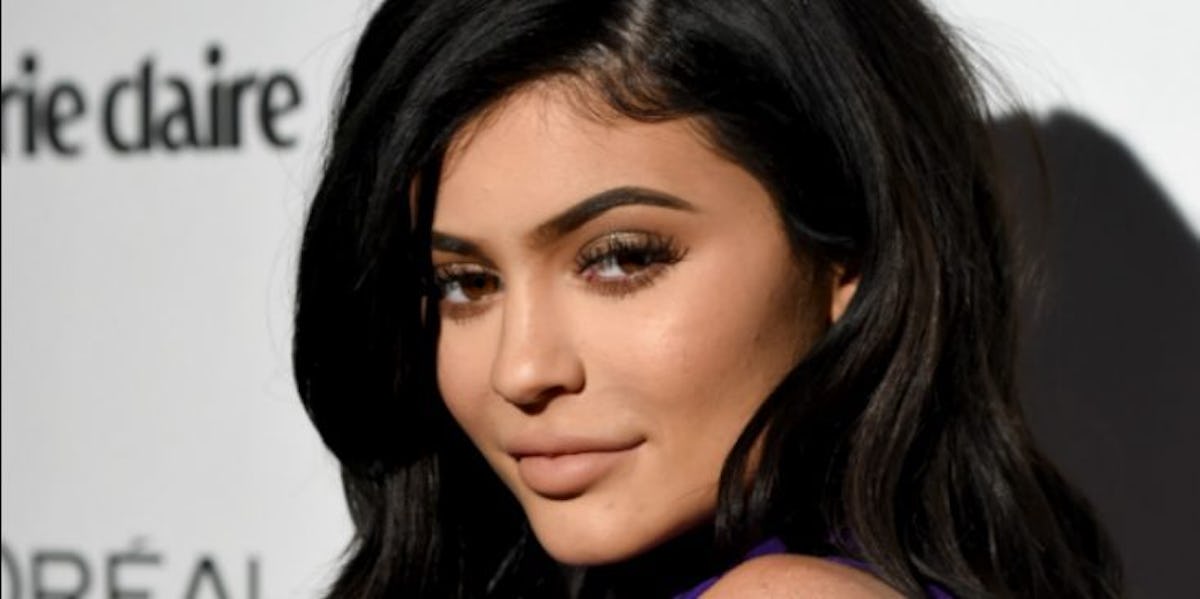 Kylie Jenner Is Reportedly Pregnant & Fans Are Waiting For The Kardashians To Respond
Getty
WTF, Sept. 22 will be a date we remember for the rest of our lives because on this day it was announced Kylie Jenner is reportedly pregnant with Travis Scott's baby. I REPEAT, KYLIE JENNER IS REPORTEDLY, LIKE, HAVING A FREAKING BABY. Now that the youngest Jenner is reportedly expecting, fans are looking to her family members to respond to the reports. So, what do the Kardashians think about Kylie Jenner's pregnancy? Is Kris Jenner pumped for another grandkid? Is Kim Kardashian pissed her little sister is stealing the spotlight? Is Kourtney too busy making out with her new BF to notice? WELL, it looks like no one has commented on the matter yet!
Elite Daily reached out to Kylie Jenner and Travis Scott's teams for confirmation and comment, but did not hear back by time of publication. In the meantime, fans are looking to Twitter to see if the famous family has anything to say about the new reports. According to TMZ, sources close to Travis Scott told the outlet the Life Of Kylie superstar is pregnant with the rapper's baby. On top of that, Page Six says the star "has been looking pregnant for about four months," according to a source. FOUR MONTHS? YOU MEAN OUR GIRL HAS BEEN REPORTEDLY CARRYING A BABY INSIDE OF HER FOR THIS ENTIRE SUMMER?
If you take a look at Kylie Jenner's social media accounts, you'll see nothing that indicates there's a pregnancy at all. However, as Page Six points out, Jenner has been adding old photos to Instagram instead of current ones. Fans have a theory this could perhaps be a way for her to keep up her social media presence without revealing her baby bump, but who knows what she's thinking. Maybe she just loves pics from 8 months ago and wants to share???
Nothing too crazy is happening on Kylie Jenner's Twitter acount, in case you were looking for updates. The lip kit queen took Sept. 20, 2017, to respond to fans asking questions about her holiday makeup lines, but that's really all we got.
She also took some time to promote her new Kendall And Kylie clothing line. OK, THAT'S COOL AND ALL, BUT WHAT ABOUT THE BABY?
Shortly after news broke, Kim Kardashian tweeted but failed to respond to the pregnancy rumors. Instead, she responded to a fan's comment about her KKW Beauty products. OK, YOU GUYS, I GET THAT YOU LIKE MAKEUP. BUT CAN WE ALL JUST DROP EVERYTHING AND TALK ABOUT KYLIE JENNER'S FUTURE DAUGHTER?
Yes, I did say daughter. According to TMZ, Travis Scott and Kylie Jenner are reportedly having a girl, although the source did say they cannot verify the sex of the baby. A BABY GIRL? I'm done, I'm dead. This news is too much for my brain to take.
Big sis Kourtney Kardashian posted some new tweets too, but nothing was about Kylie Jenner's reported pregnancy. Instead, the mother-of-three took to Twitter to share a fashion trend she's sporting on her app. COOL, KOURT. GREAT TIMING.
She also tweeted this, if like, anyone cares right now:
Of course, all eyes are on Kendall Jenner, because you know, she's the closest sis to Kylie Jenner (they're basically BFFs.). Rather than commenting on the reports, Kendall also went to Twitter to promote a Kendall + Kylie shopping spree on her app. GREAT TIMING, KENDALL. I want to win a shopping spree so I can buy baby clothes for Kylie Jenner's newborn.
Khloe Kardashian (who's probably freaking out right now about being an aunt again), went to Twitter to share a quiz on her app. LMAO, WHY THE HELL IS EVERYONE PROMOTING THEIR APP RIGHT NOW? IS THIS ALL ONE BIG MADE UP RUMOR JUST SO WE PLAY QUIZZES AND SUBSCRIBE TO THEIR APPS?
I don't know, you guys, I don't know. Hopefully someone will say something soon so we can all focus on what really matters: coming up with an awesome name for Kylie Jenner's future child.