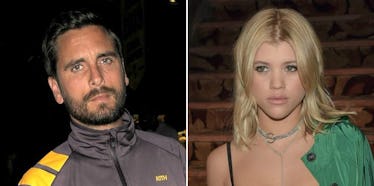 Scott Disick And Sofia Richie's "Congratulations" Cake Might Mean Big News
Getty Images/Chance Yeh, Jason Kempin
It looks like Kylie Jenner might not be the only member of the Kardashian circle with news. Scott Disick and Sofia Richie got a "congratulations" cake at a dinner on Sept. 23, and when the photos started circulating on social media, it sparked so many rumors about their relationship. Disick — father to Kourtney Kardashian's three children — always seems to remain within the Kardashian Circle of Trust, but now that photos and videos surfaced on Instagram, it appears Kourt might be a thing of the past.
The video captures the duo next to each other as the waiter presents them with a delicious-looking treat and a sparkling candle. Obviously, that type of prop is a must for big occasions — a stunt you don't pull for no reason. The love birds didn't attempt to blow them out. They didn't even smear their names with the chocolate "Congratulations Scott and Sophia" script because they immediately participated in a smooch fest while friends in the background clapped and cheered on. I'm also guessing that Sofia didn't see that her name was misspelled because she was too busy.
So, what exactly are you two celebrating? Earlier this year, 19-year-old Richie took to Twitter to say, "Just so everyone can get their panties out of their asses, Scott and I are just homies. #Relax." Wow, that is one awfully friendly homie you've got there, Miss Richie.
The night out in Miami seems to have been planned, according to TMZ. If that's the case, you can't help but wonder what's going on. Sources claim that the two are not engaged, TMZ further reported. To be honest, it's kind of difficult to tell. It's not like anyone can get a good look at her ring finger in this footage. Perhaps running the tapes in slow-mo will give everyone the answers.
Engaged or not, people definitely had a lot to say about Disick and Richie.
This isn't the first time the 34-year-old has reportedly been linked to younger women. Earlier this year, there were rumors that Disick and 19-year-old Bella Thorne were an item. They were seen around Hollywood, dining at Kardashian hotspots, and even hanging out abroad at Cannes. But apparently love is fleeting because shortly after the Thorne-Disick rumors, the young actress was reportedly interested in someone else. Relationships are a struggle sometimes, you guys.
Word must've gotten out that Disick was getting some attention because Kylie Jenner just took to Instagram — following a weekend of pregnancy rumors — to share a cryptic message that no one understands. So, is the 20-year-old beauty mogul going to share any updates about her alleged pregnancy? Nope. She decided to share a picture with her buddies, all of whom are in sexy white robes, with a caption that reads "mornings." Talk about a sexy photoshoot. Then she shared a BFF photo in honor of her girl pal Jordyn Woods' birthday. Hmm, that's kind of an interesting pose, Jenner. Any reason in particular you've decided to lift up your shirt ever so slightly?
The people want to know the situation, and the youngest of the Kardashian-Jenner clan seems to enjoy keeping everyone on their toes.
One thing is for sure: No matter what seems to be going on in the world, this family always manages to snatch the spotlight from all other current events. It's almost frightening when you stop to think about it. Between Disick's new lady, Jenner's reported pregnancy, the reality show's 10-year-anniversary, it's been a busy week for this group. Chances are people are in for a lot more news as the rumors continue to develop... and they continue to play with everyone's emotions with unusual social postings. Let's save everyone a lot of speculation, guys: Just spill the beans.
Check out the entire Gen Why series and other videos on Facebook and the Bustle app across Apple TV, Roku, and Amazon Fire TV.