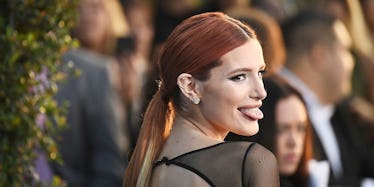 Bella Thorne May Have Confirmed She's Dating A New Guy And He's Not Scott Disick
Frazer Harrison/Getty Images
Now THIS makes sense, Bella. The 19-year-old actress has had fans' heads spinning as she's been spending all of her time with reality TV father-of-three, Scott Disick. Now, she is stepping out with someone who seems much more, IDK, on brand? Nothing is for certain yet, but we are getting closer to answering the question, who is Bella Thorne dating? You guys, we're feeling good about this one.
Our latest source (aka the internet) has led us to a man named Blackbear, and no, he isn't an actual bear. In fact, he's a skinny, tattooed, rapper with the original name, Matthew Tyler Musto. The two have suddenly and aggressively been snapping photos together, and captioning them with adorable things like a self-proclaimed nickname and fire emojis. Thorne is calling the duo "Bsquared," and it's cute. I guess.
Elite Daily reached out to Thorne's team for comment on her new rumored relationship, but did not hear back by time of publication.
In her first Instagram pic of the pair, Thorne is seen licking Blackbear's ear, and even included the "ON" emoji with a rainbow and flower. If that doesn't say, "I'm dating this man," I don't know what does.
A few days later on August 6, Thorne took to social media once again to share an intimate moment (what else is new?) in which she's receiving a massage from someone she calls "Baby."
In the video, a topless, pink-haired Bella is spotted laying down on a massage table with the caption, "Thanks baby for da massage." She also added the text, "He knows I wouldn't want to leave the house so it's in my living room."
Intimate much?
Jury is still out on whether or not it's actually BlackBear giving her the massage, but my spidey senses tell me "yes."
Fans are hoping the two step out together this weekend at The Teen Choice Awards to make it official, but until then, we're loving the pair from afar!
Go in rainbows, Bsquared.