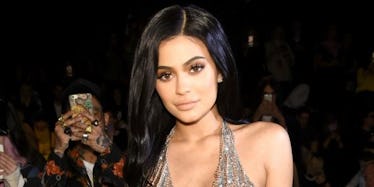 Kylie Jenner Breaks Silence On Pregnancy Reports With Cryptic Instagram Pic
Jamie McCarthy/Getty Images
It seems like centuries since Kylie Jenner posted her last photo on Instagram, doesn't it? Ever since rumors about her reported pregnancy began, everyone's been keeping a close eye on the 20-year-old's Insta page. Sure, it's only been three days since her last post, but that's a really long time when you're counting down the minutes for some sort of pregnancy confirmation. Well, everyone, she finally did it. Kylie Jenner's first Instagram after pregnancy rumors is here, and it isn't giving anything away.
Kylie posted a snapshot of herself with her #squad in post-spa or pre-brunch gear, by which I mean soft white bathrobes and undies. The photo, snapped by Kylie's bestie, Jordyn Woods, and captioned simply, "mornings :)," shows everyone mugging for the camera into a mirror... the carved frame of which, conveniently, appears to be covering up the lower abdomen, baby bump area of interest. Kylie. Why are you doing this to us!?
UPDATE: Only minutes after the first sly IG, Kylie gave us another teasing dose of is-she-or-isn't-she, with a follow-up pic that shows just a smidgen of belly. In a pic that appears to be from Jordyn Woods' birthday festivities on Sept. 23, the two besties are shown posing with a giraffe, while Kylie lifts juuuust the edge of her oversized shirt to put a hand on her hip, revealing a sliver of skin, but not enough to tell if there's a baby bump there. The caption reads only, "yesterday was cute. hope you had the happiest of birthdays Jordy. Love you forever ever and beyond.."
This is just getting cruel now.
EARLIER: Well, now that she's given us a glimpse of what's going on inside her life via the 'gram, let's recap exactly what's going on about her reported pregnancy. On Friday, Sept. 22, news broke that the lip kit goddess is reportedly pregnant. Rumor has it that Travis Scott, her 25-year-old rapper boyfriend, is the father! According to People, the couple is set to have their child in February (that's, like, really soon). An unnamed source told People that they both "started telling friends a few weeks ago," and that "the family has known for quite some time." Way to keep a secret, guys! The source also claimed to the publication that Kylie is "really excited and so is Travis."
Aw. We're excited for you, too!
Another insider told People that Kylie has been "posting old photos of herself on social media" so the news about her reported pregnancy wouldn't break before she shared it herself. Well, by the looks of it, she's not quite done hiding her baby bump from the public. But fans are dying to know, at least according to the comments. The responses to the IG quickly filled up with fans asking to know whether or not they could expect a new member of the Kardashian-Jenner clan to come.
According to Page Six, Kylie Jenner has been keeping her pregnancy a secret for quite a while. An unnamed source told them the Kardashian sister "has been looking pregnant for about four months," to be exact.
Damn, Kylie. You definitely fooled us.
Multiple sources have confirmed that Kylie and Travis have been officially dating since April, which was only a little over five months ago. If she's already four months pregnant, they wasted no time at all. Pretty soon, the Kardashian household will have another baby running around... especially since Kim and Kanye are hoping to have a third child soon.
Recently, there have been tons of rumors about Kim Kardashian hiring a surrogate mother for her next pregnancy. In fact, Kim recently told E! News,
I've definitely seen a lot of things, we've never confirmed anything. So, I think when we're ready to talk about it we will, and I think it's super invasive when people are just… So many details out there, and like I've never heard this, I've never heard this. Like whatever. We have not confirmed it, and that's that. I'll let you know when we're ready.
Sounds pretty vague, huh? Well, ever since Kylie's pregnancy rumors were announced, people automatically jumped to the conclusion that Kylie is Kim's surrogate. It sounds crazy, but if you're into conspiracy theories, it kind of makes sense. Of course, this has not been confirmed.
But even though we don't know any more about Kylie's current state of pregnancy (thanks, Instagram), we can still hope another baby Kardashian is on the way. According to TMZ, an unnamed source claimed that Kylie and Travis will be having a girl. However, TMZ can't verify gender information at this time.