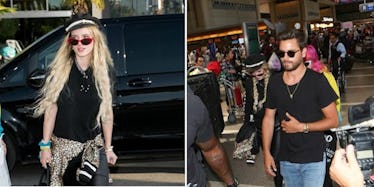 Bella Thorne Claps Back At Rumors About Her And Scott Disick
Getty Images
In a blunt AF tweet, Bella Thorne shut down any talk of rumors about her and Scott Disick.
After the two were spotted out on the town together multiple times in the past few weeks, it's become virtually impossible to not side-eye the crap out of them.
But the 19-year-old actress tweeted that she's "not talking to Scott or anyone else."
And, because why not, she added a "#dontf*ckwithit" just to make sure she really drove her point home.
The rumors began to swirl just a couple weeks ago, when Bella and the 33-year-old reality star were allegedly seen out to dinner together at Catch LA in West Hollywood.
In the same night, they grabbed more food (now that's the move) at a Kardashian family favorite, The Nice Guy, and they eventually ended the evening at the Peppermint Club, where they partied until around 1:30 am.
Then, less than a week later, after Bella and Scott were spotted at LAX, a source told Entertainment Tonight that the two were headed off to the Cannes Film Festival together.
No word yet on Scott's side of the story here, but I would imagine the mere idea of dating someone who's the same age as your youngest former sister-in-law is definitely not a good look. It's probably best for him to lay low on all this for now.
Especially given that he and Bella are literally now breathing the same air as Kourtney Kardashian, his ex, and her own (ahem, also-suspiciously-young) new rumored bae, Younes Bendjima, who are also at Cannes right now.
Not to mention, they're looking pretty damn chummy together, no?
Plus, Kendall is also there with her big sister, Kourtney. Guys, the tension at that festival must be freaking palpable by now.
Something tells me there's not going to be a happy family reunion at Cannes, especially with Bella's super shady tweet out there now.
But honestly, good for Bella. Sometimes, it's best to just confront an issue head-on before it has a chance to completely spiral out of control.
Do you, girl. LIVE YO' LIFE.