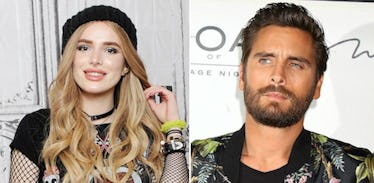 Bella Thorne Reportedly Went On A Date With Scott Disick And We Have Questions
Getty Images/REX
Uh... Bella Thorne and Scott Disick reportedly went on a date, you guys... LITERALLY WHAT THE FUCK IS HAPPENING?!
How is this a thing?! Isn't she, like, 12?! Isn't he, like, a lot older than 12?!
Who let this happen!!! Kris, FIX THIS.
Elite Daily reached out to Bella and Scott's teams, but did not hear back at the time of publication.
According to Entertainment Tonight, Bella Thorne and Scott Disick were seen at three separate locations together on Monday night in LA. Three?!
They were first spotted at a restaurant called Catch LA in West Hollywood eating dinner, then they went to allegedly one of the Kardashian family's favorite spots, The Nice Guy, where they got more food, Teen Vogue reports.
And then, they reportedly went to some place called the Peppermint Club to watch some live music and didn't leave until 1:30 am in Disick's car.
OK, first off, I respect getting two dinners. That's the kinda hustle I like to see.
But second, Scott, isn't Bella younger than Kylie?! I feel like a good rule of thumb should be to think to yourself, "Hmmm, this girl is younger than my youngest former sister-in-law. I should probs NOT DATE HER." I'M JUST SAYIN'.
OK, after some research, I've discovered Kylie Jenner and Bella Thorne are actually both 19 and are only two months apart. BUT BELLA IS STILL THE YOUNGER OF THE TWO, SO I'M STICKING WITH THIS.
And let's tack on another rule that if you, a 33-year-old man, are thinking about going on a date with a woman whose age still has the word "teen" in it, DON'T.
Bella was Snapchatting throughout the date on Monday night, but Scott wasn't in any of the pics... But he was probably literally right outside the damn frame!!!
I can't handle this shit.
Scott, are you lashing out at Kourtney? It's OK if you are. Kourtney is  dating an Instagram model who's also, like, 12. (Fine, he's literally my age, 23.) But just let us know if you're upset. Lashing out is never the healthy option!!
Sweet Jesus, I have a goddamn migraine.
Citations: EXCLUSIVE: Scott Disick Goes on a Dinner Date With Bella Thorne (Entertainment Tonight), Bella Thorne Reportedly Went on a Date With Scott Disick (Teen Vogue)