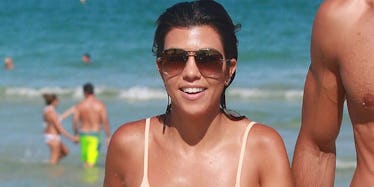 Kourtney Kardashian Is Now Dating This 23-Year-Old Model On Instagram
REX/Shutterstock
Look, when a girl's got a type, a girl's got a type. And if that means Kourtney Kardashian exclusively dates baby-man-children, then so be it.
The mega-hot mom of three is stepping out with Instagram model Younes Bendjima who is a whopping 23 years old.
That makes him 15 years her junior, but let's get real. Age is just a number, construct of society and also, like, totally irrelevant in Hollywood.
The couple is thought to have started hanging out right around the time of sister Kim's infamous Paris robbery, and even allegedly were together at the club the night it all went down.
The duo has been keeping it pretty low-key, until this past Tuesday when they stepped out for lunch together in front of God and everyone in West Hollywood, and later went shopping in Beverly Hills.
Oh yeah, this is what he looks like.
And this...
...and this.
And here he is on a horse, just for funsies.
You get the literal picture.
TMZ reports the tanned duo has been casually dating for a few months, making us wonder if this is the infamous person Kourtney was recently seeing on a "KUWTK" episode, causing Scott to spin out and invite a girl back to his hotel room.
You know the one I'm talking about.
This is also not Kourt's first alleged romance with a youngster, as you may recall there was that whole Justin Bieber moment not too, too long ago.
Ah, to be a celebrity... how totally exhausting and terrible it sounds.
Of course, Scott and Kourtney are continuously trying to make it work as co-parents of their children -- Mason, 7, Penelope, 4, and Reign, 2 -- regularly taking family trips and planning family adventures, like trips to Disney Land and a jaunt to Mexico, also recently featured in "KUWTK."
Scott tells Kourt's sisters Kim and Khloé, "She's the love of my life."
Oof. Hang in there Scott.
Citations: KOURTNEY KARDASHIAN Nothing to Hide ... I'M BANGIN' YOUNG, HOT MODEL! (TMZ)