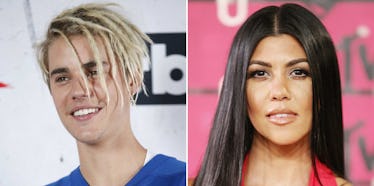 Report: Kourtney Kardashian And Justin Bieber Hooking Up
REUTERS/Danny Moloshok
Lord Disick isn't going to like this.
People Magazine reports Kourtney Kardashian and Justin Bieber are together — again.
According to a source who claims to be close to the pair, the duo have been "hooking up on and off for a few months now."
I guess Kourtney doesn't mind the dreads?
The source, who remains anonymous and concedes that the pair's relationship isn't serious, added
Justin thinks it's cool that [Kourtney] is older and hot. She isn't clingy and has her own life. There are no bad consequences for Justin to hook up with her. She is very easygoing and just makes it fun for him to be around her.
Even though it isn't serious, Justin has reportedly met Kourt's kids, whom she shares with her ex, Scott Disick. Fortunately for them and everyone else in the world, the source stressed
they don't hook up around the kids.
Considering Justin is young enough to be Kourtney's kid — there's a 14-year age difference between them — I'd say that's a good thing.
Citations: Kourtney Kardashian and Justin Bieber Have Been 'Hooking up on and off for a Few Months': Source (People)