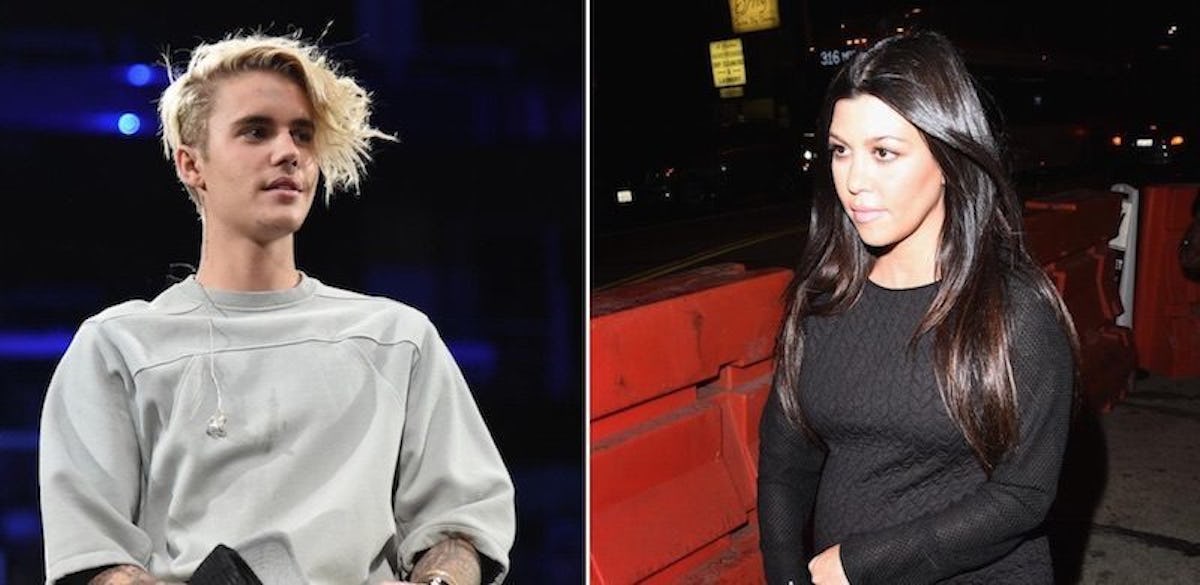 There Are More Details About The Alleged J Biebs And Kourtney K Hookup
Getty Images
Guys, I need to talk about Kourtney and Justin real quick.
Unless you've been living under a rock without WiFi since Friday, you're probably aware the oldest Kardashian sister and Justin Bieber apparently totally hooked up. I know, I KNOW.
I can talk later about how weird this is and how terrible Kourt is at choosing men, but right now you should be concerned about one thing: motive.
Is Bieber in this for the long haul, or is this just another "thing" for him to do?
Is Kourtney using this as an elaborate middle finger toward Scott Disick, or does she genuinely like the guy who came out with My World 2.0? Basically, what is the PURPOSE *wink wink* of this whole thing?
Well, now that the dust is finally settling on this tryst, there are some answers.
A source reportedly told PEOPLE,
[Justin] has had a huge ego boost from hooking up with Kourt. It's been going on for a few months. He is used to being swooned by young girls that have nothing else going on. Kourt is a hot mom with a career.
Another source, possibly the same as the previous, said,
He more thought, 'Wow,' and couldn't believe that she would go for him. He brags about how hot she is. He is happy while it lasts. Even if she is using him to get back at Scott, he couldn't care less.
That's cute, right? Is it cute? Is saying, "She's a mom, but, like, she's hot and sh*t, so it's hot," cute?
Last week wasn't the first time Bieber and Kardashian allegedly knocked beautiful boots, by the way. Another source previously confirmed this had been going on for a while.
The source said,
He's obviously close to the family, and Kris [Jenner] is obsessed with him. It's just one of those things where it makes Kourtney feel good about herself. It's not serious at all. This young guy is into her, he thinks she's hot and she's older. She just wants to have fun.
Oh, and to answer your last question, yes, Scott Disick is allegedly super pissed about the whole thing.
So now, if anyone says the hookup makes NO SENSE *wink wink*, you can answer, "WHAT DO YOU MEAN? They're just having fun, NO PRESSURE." *wink wink*
THANK YOU, GOOD NIGHT!
Citations: Kourtney Kardashian Fling Is an 'Ego Boost' for Justin Bieber, Says Source: 'He Couldn't Care Less' If It's for Revenge on Scott Disick (PEOPLE)