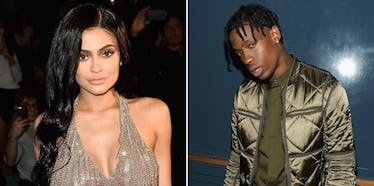 Travis Scott Quotes & Lyrics About Kylie Jenner Will Make Your Jaw Drop
Nicholas Hunt/Bryan Bedder/Getty Images
If you haven't been scrolling through Twitter this afternoon and quite possibly may not be in the know about the reported scoop I'm about to tell you, then #SorryNotSorry, but Kylie Jenner has been trending. In addition to Sept. 22, 2017, marking the very first official day of fall, it's also the day that, according to a report from TMZ earlier, Kylie Jenner is reportedly pregnant with Travis Scott's baby. Elite Daily reached out to Kylie Jenner's and Travis Scott's teams for confirmation and comment, but did not hear back by time of publication.
This is what we know so far. About the couple's reported pregnancy, TMZ reports,
Sources also say Travis Scott, Kylie's boyfriend, has also been telling his friends. We're even told — although we cannot verify — that he's told friends they're having a girl. One source says Travis was at a recent event telling people about the pregnancy and how his life was going to change.
Additionally, Page Six reports,
A source tells us the couple is expecting a girl. 'She has been looking pregnant for about four months,' says the source. Jenner has not been seen at public events lately and has been posting older shots on Instagram. Other pictures of her have been cropped. We hear the family will be confirming the news today.
According to Page Six, the couple reportedly began dating back in April. Naturally, Twitter could not even handle this news, and fans everywhere immediately started freaking the f*ck out. In the midst of all of this, you may be wondering about the couple's history together.
Well, Jenner and Scott got tatted up with matching butterfly tattoos (in matching spots, of course) this past summer, after Scott debuted his song "Butterfly Effect" in May. Needless to say, there might be some Travis Scott quotes and lyrics about Kylie Jenner that will inevitably make your jaw drop.
Now, let's backtrack it up a bit: Basically, fans theorized that Scott's "Butterfly Effect" lyrics are about Jenner, after he posted the picture seen in the tweet below. I see you chilling up there, Kylie.
I mean, the two did get matching butterfly tattoos together on their ankles (on Jenner's right ankle and on Scott's left ankle), which is pretty freaking adorable (and pretty freaking permanent, too). But let's take a quick look at the lyrics of "Butterfly Effect," shall we? It's time to cue all the feels:
She caught the waves just thumbin' through my braids / Heatin' up, baby, I'm just heatin' up / Need ya love, not a need it is a must / Feelin' stuck, you know how to keep me up / Icy love, icy like a hockey puck
What's interesting about the entire butterfly symbolism is that Jenner stated she's scared AF of butterflies in a Life of Kylie clip. She revealed,
Butterflies are just part of the secrets of Kylie. It's kind of just ironic because I'm terrified, terrified of butterflies. All butterflies. This is how I think of them: Cut the wings off and if you just look at their bodies, they're not that pretty. It's literally a bug.
SZA dropped a song called "Love Galore" with Travis Scott back in April...
... and a couple of Twitter users are actually commenting on a specific lyric in "Love Galore" after the reported pregnancy news broke today.
One person tweeted, "Travis Scott really planted a seed in Kylie Jenner and got her pregnant. His 'Love Galore' verse is real life." And another wrote, "So you guys are telling me you didn't expect Kylie to get pregnant when Travis's lyrics are this in love galore, he was planning this."
This connection is mind-blowing, and Twitter has spoken. But still, until Kylie, Travis, or a member of their families confirms anything, it looks like we'll have to wait to know whether or not the reports are true.