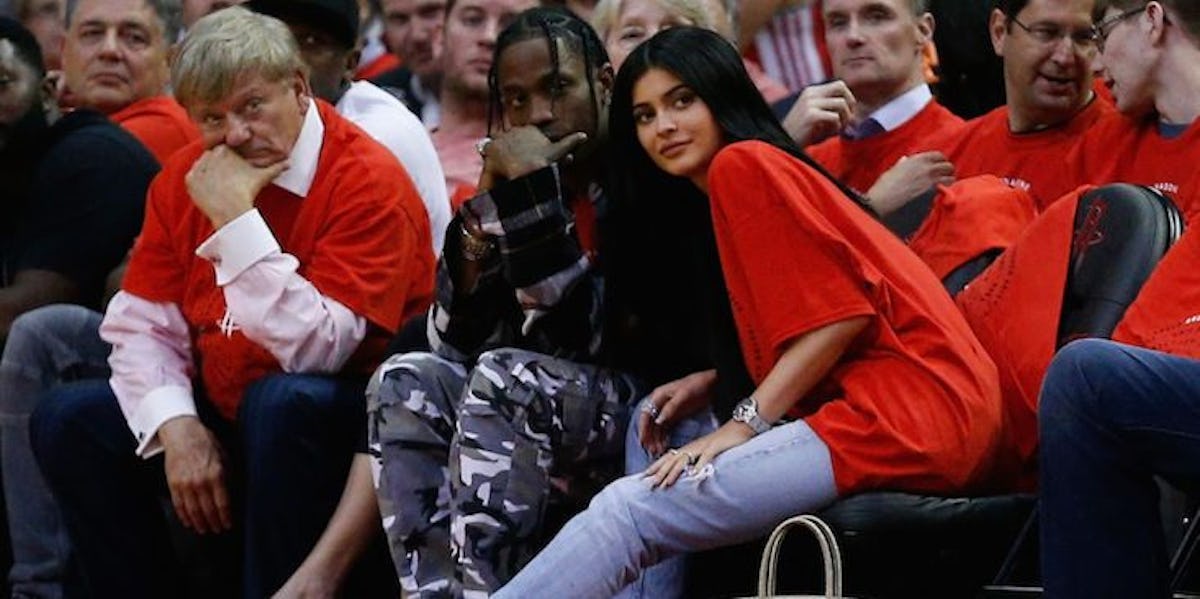 Are Kylie Jenner & Travis Scott Engaged? Here's What We Know After Pregnancy Reports
Bob Levey/Getty Images
It's a bird. It's a plane. It's Kylie Jenner, and she's reportedly pregnant! Oh, my dear lord. The internet absolutely broke on Sept. 22, 2017, when Jenner pregnancy rumors started spreading all over the World Wide Web. You've heard about it. I wrote about it. We all freaked out over it. This is big, people. So, here's what we know: Kylie Jenner is reportedly pregnant with boyfriend and rapper, 25-year-old Travis Scott. Because of the news, fans are now wondering, are Kylie Jenner and Travis Scott engaged? Usually, when a baby is involved, an engagement ring pops up somewhere along the way. In the traditional sense, that is, but who really believes in tradition anymore? Definitely not me.
Elite Daily reached out to both Jenner's and Scott's teams about the engagement report but did not hear back by the time of publication.
Although we haven't heard much news about an engagement plan, we do know a lot about the baby rumors. It can't get any bigger than this, you guys. According to People, Jenner and Scott are reportedly expecting a baby in February. What? February? That's just around the corner! Holy sh*t. An unnamed source told People they both "started telling friends a few weeks ago," and that "the family has known for quite some time." Well, we definitely have not known for quite some time. How did we miss this? The source also claimed that Kylie is "really excited and so is Travis." We are happy for them both. They will make an adorable child, but the question still remains. Who is proposing, when is it happening, and can we go to the wedding? Let's review.
For all of you out there who haven't been keeping up with celebrity news, Jenner and Scott began dating in April of 2017. The famous duo got together after Jenner ended things with on-again off-again boyfriend, Tyga. They were first spotted out in public at a Coachella party, which Jenner posted to Instagram. Although Scott and Jenner haven't been dating long, they're very serious.
The youngest Kardashian-Jenner sibling is only 20 years old, yet she's been the subject of wedding rumors previously. Is that why fans assume she and Scott are already married? Most likely. Back in June of 2017, rumors spread that Jenner and Scott got married in a secret ceremony, but it was quickly debunked. There are always random rumors circulating around the Kardashian-Jenner family, and it's always so much fun. Sorry, not sorry.
The Kardashian household is large and in charge, and it's about to get even bigger. Kim K and Kanye are reportedly having a third child soon, too! This family won't stop growing. In recent news, there have been rumors about Kim K hiring a surrogate mother for her next pregnancy. Kim K told E! News,
I've definitely seen a lot of things, we've never confirmed anything. So, I think when we're ready to talk about it we will, and I think it's super invasive when people are just… So many details out there, and like I've never heard this, I've never heard this. Like whatever. We have not confirmed it, and that's that. I'll let you know when we're ready.
She doesn't admit to much, but it's something. There's even an insane conspiracy theory that thinks Kylie Jenner is Kim K's surrogate mother. Just imagine! That would be amazing.
Although rumors are spreading faster than you can say "Kardashian-Jenner," the wedding rumors could totally be true. I'm not mad about it, either. Honestly, who doesn't love weddings? Tie the knot already, you two. We are here for it.