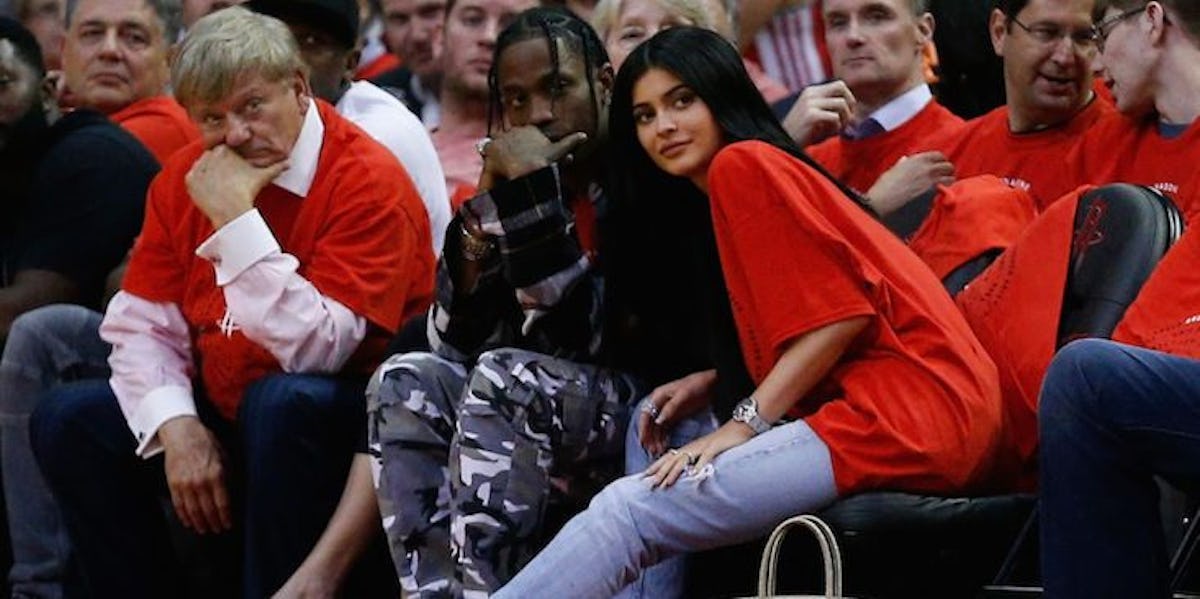 Here's Everything We Know About Kylie Jenner & Travis Scott's Relationship
Bob Levey/Getty Images
Today, Sept. 22, TMZ reported that sources close to Kylie Jenner and Travis Scott revealed the couple is allegedly expecting a baby girl. Neither Kylie nor Travis has confirmed the news themselves. However, the family is reportedly planning to confirm the news today, according to Page Six. Elite Daily reached out to both Travis Scott's and Kylie Jenner's reps for comment but did not hear back by the time of publication. Among the wide range of fan questions, many want to know exactly how long have Kylie Jenner and Travis Scott been together.
Kylie Jenner, the makeup mogul and owner of the widely successful Kylie Cosmetics, celebrated her 20th birthday on Aug. 10, and rapper Travis Scott, who recently went on tour with Kendrick Lamar, is 25 years old. The couple reportedly started dating back in April, and have been together about five months. They began their public relationship at Jeremy Scott's Moschino x Candy Crush Coachella party in April with some cozy photos.
The news of Kylie's rumored pregnancy broke early today as TMZ reported,
Sources also say Travis Scott, Kylie's boyfriend, has also been telling his friends. We're even told -- although we cannot verify -- that he's told friends they're having a girl. One source says Travis was at a recent event telling people about the pregnancy and how his life was going to change.
Page Six also reported on the potential pregnancy news, stating,
A source tells us the couple is expecting a girl. 'She has been looking pregnant for about four months,' says the source. Jenner has not been seen at public events lately and has been posting older shots on Instagram. Other pictures of her have been cropped. We hear the family will be confirming the news today.
Another source reportedly close to Kylie Jenner and Travis Scott revealed to PEOPLE,
They started telling friends a few weeks ago. The family has known for quite some time. She is REALLY excited and so is Travis!
Kylie and Travis have kept their relationship fairly quiet since they began dating five months ago. However, as quiet as they have kept their relationship, they put their love on full display back in June by getting matching tattoos. Both Kylie and Travis got tiny, delicate butterfly tattoos on their ankles. Their tattoos came after Travis' song "Butterfly Effect" came out in May. Fans speculated the song was about Kylie from the start, and the tattoos became inked proof.
TRAVIS SCOTT POSTS KYLIE JENNER AS HIS "BUTTERFLY EFFECT" INSPO SONG pic.twitter.com/jfHFXEFUZ8 — DESIRE (@desiredotink) May 16, 2017
The "Butterfly Effect" lyrics are certainly about love, and fans have the right to assume it's about Kylie.
Heatin' up, baby, I'm just heatin' up / Need ya love, not a need, it is a must / Feelin' stuck, you know how to keep me up / Icy love, icy like a hockey puck
While the implied romance is overwhelming in Travis' lyrics, the irony is that Kylie recently revealed in an episode of her show, Life Of Kylie, that she is afraid of butterflies. She and her best friend Jordyn Wood went to a zoo and entered a butterfly exhibit. She revealed on her show during a voiceover,
Butterflies are just part of the secrets of Kylie. It's kind of just ironic because I'm terrified, terrified of butterflies. All butterflies. This is how I think of them: cut the wings off and if you just look at their bodies, they're not that pretty. It's literally a bug.
It's reported that Kylie Jenner is four months along in her pregnancy, which would make her due sometime this February. Fans will just have to wait and see.
Check out the entire Gen Why series and other videos on Facebook and the Bustle app across Apple TV, Roku, and Amazon Fire TV.