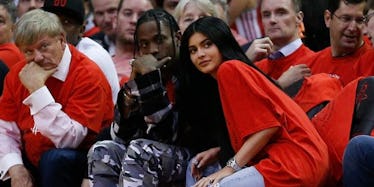 Here's The Day Fans Think Travis Scott Learned About Kylie Jenner's Reported Pregnancy
Bob Levey/Getty Images
I honestly can't believe the gall of this weekend. I take one teeny tiny social media break for a few days, and what do I miss? Oh, not much, just the news that KYLIE JENNER MIGHT BE PREGNANT WITH HER FIRST CHILD. What the hell, guys?! I thought the deal was that no big things would happen if I took a couple of days off Twitter! God, I'm stressed. Whatever. This is fine. Happy Monday. Let's dive in, shall we?
Although no one from the Kardashian/Jenner family has confirmed the rumors about Jenner's pregnancy, they also haven't denied it, so naturally, the internet is in a frenzy looking for hints the star is expecting a baby with Travis Scott. And the internet thinks it might have figured out Travis Scott's reaction to Kylie Jenner's reported pregnancy based on things the pair posted on social media at the time.
Elite Daily reached out to Kylie Jenner's and Travis Scott's team for comment, but did not hear back by time of publication.
Jenner and Scott's baby (which is reportedly a girl) is allegedly due in February 2018, according to People, which means Jenner likely discovered she was pregnant around the May/June timeframe. Jenner and Scott started dating in April after she and Tyga broke up, and if you remember, that's around the same time she and Scott got matching butterfly tattoos. People are speculating that Jenner told Scott she was pregnant on June 12, as Scott tweeted "Legit happiest day of my life" on that day.
June 13 would have been early in Jenner's first trimester. It's definitely possible that Jenner and Scott got their matching butterfly tattoos in honor of their baby on the way. Lots of fans thought it was a little early for a couple who had only been dating for a few months to get matching tattoos, but if it's in honor of their child together, that would make a lot of sense. Or, you know, they just felt like getting tattoos that day and are into butterflies.
A source close to the family told People Jenner and Scott weren't expecting to have a baby, but are still thrilled at the news and are excited to become parents. The source said,
It is an unexpected but completely amazing turn of events that she could not be more excited or thrilled about. Everyone is overjoyed for her. This is the happiest she's ever been.
Eleven days later, Scott posted a photo on Instagram and captioned it, "Kids."
He was probably just referring to the fans in the crowd, but hey, who knows! When Scott tweeted the "happiest day" of his life tweet, lots of people responded asking if he was happy because he broke up with Jenner. Yikes. It might have been the literal exact opposite scenario.
Jenner came down with a case of altitude sickness while on a trip to Peru back in May (you know... the time when she most likely about to find out she was pregnant), and her trip was a plot point in an episode of Life of Kylie.
Twitter user @mRiah says the altitude sickness could have been caused by the baby.
And then she points out what a shaman said to Jenner in the episode that could have been the most obvious sign that Jenner was pregnant. The shaman said there's someone who's very "intrinsic" to her, saying, "He's inside, looking at you."
The rest of the user's thread also points out that Jenner was accused by lots of people online of getting a boob job (not that that would be a bad thing if she did, they're her boobs after all). Jenner responded by saying it was just her period making them look bigger, which is definitely a thing that happens to most women when they're about to get their periods. Checks out. @mRiah points out, however, that this was in late May, so it could have been pregnancy boobs, but Jenner might not have known yet — she might have just thought she was getting her period.
Of course, this is all speculation because Jenner hasn't confirmed the news herself. One thing's for sure, Life of Kylie is about to get reallllll interesting.