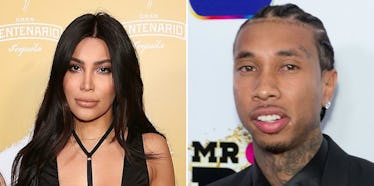 Sorry Kylie Jenner, Tyga Is Reportedly Dating A Girl Who Looks Just Like Kim K – PHOTOS
Getty Images/Greg Doherty,Phillip Faraone
Tyga has made it clear that he definitely has a type. The rapper was constantly in the public eye while dating the youngest of the Kardashian clan, Kylie Jenner. The two dated off-and-on for what seemed like forever. However, now people are wondering, "Is Tyga dating Kamilla Osman?" It seems that these two are starting to get very close.
Elite Daily reached out to Tyga's team, but did not hear back by the time of publication.
According to Seventeen, Tyga and Osman were seen riding around together in Tyga's Bugatti. Major suspect. Obviously, stepping out with each other doesn't necessarily mean they're exclusively dating, but people are definitely 'shipping these two. If you don't recognize Osman's name, you'll definitely recognize her face — it's basically the same face Kim Kardashian has. This is what's fascinating to people — Tyga and Kylie break up and he basically dates her older sister.
Kylie probably DGAF since she's been happily dating rapper Travis Scott. However, when it comes to their breakup and Jenner's new squeeze, Tyga is surprisingly cool with everything. During an interview with Power 105.1 The Breakfast Club, he explained that he didn't "lose" Kylie to Travis Scott. He said,
I mean, we started off as friends, and then we got into a relationship. It ain't a losing thing. When you make a decision to not be in a relationship with somebody, you make that decision, you split ways.
He continued,
I have love for her, but I'm not in love no more… When you're with anybody that first year, it's magic and then after that you start realizing a bunch of s–t. I think the main thing was a lot of people—a lot of outside influences—and… she's younger than me and she's dealing with perception. I'm older so I can deal with perception. But for her, growing up how she grew up, image and perception was everything.
Tyga's thoughts are actually really deep and make a lot of sense. YOU'RE WISE BEYOND YOUR YEARS, TYGA. I'm glad the two of them are able to move on and be in happy relationships. I guess if you're picking someone new to date it's good to stay in your wheelhouse.
Kardashian's doppelgänger is so spot on, Osman has even been featured on an episode of Keeping Up With The Kardashians.
One of Kardashian's close friends, Jonathon Cheban, was feeling a little neglected by Kimmy for spending too much time with her family (the nerve). In retaliation, Cheban befriended Osman and sported her around town like some sort of Kim K stand in. I'm a little confused by his logic, but it does seem like a total rich-person-on-a-reality-show thing to do so I'll roll with it. Cheban took it so far that him and Osman "accidentally" ran into Kardashian at the doctor's office.
In the clip, Cheban half-heartedly (and kind of pathetically) says, "I thought that was your car outside." Oh really, Jonathon? The hundreds of paparazzi that follow Kim around everywhere wasn't a clue? No one runs into Kardashian by chance, it just doesn't happen.
The encounter was funny, but extremely awkward. Kardashian just stares dumbfounded at the situation, and probably wonders why she bothered leaving the house that morning. Kim said,
This is super awkward. The fact that Jonathon would take it to this level is so bizarre to me.
It IS bizarre. Cheban's weird behavior shouldn't be a reflection on Osman — she seems like a perfectly nice person. After meeting Kardashian, she posted a photo on Instagram (that has since been taken down) with the caption,
Look who I ran into the other day – @kimkardashian, we can't wait for you guys to see our episode of #KUWK and see what we were up to xo Kim is such a sweet person and so so gorgeous, my god! -Kami.
OK, I guess she's low-key complimenting herself, but whatever. She's a strong social media influencer with over 455,000 followers.
Who's the real Kim K?! I CAN'T TELL. Although it may be a bit creepy strange that Tyga is dating his ex's older sister's look-alike, if it makes him happy that's all that matters. I'm very interested to see what the future holds for this couple. Good luck, Tyga!
Check out the entire Gen Why series and other videos on Facebook and the Bustle app across Apple TV, Roku, and Amazon Fire TV.