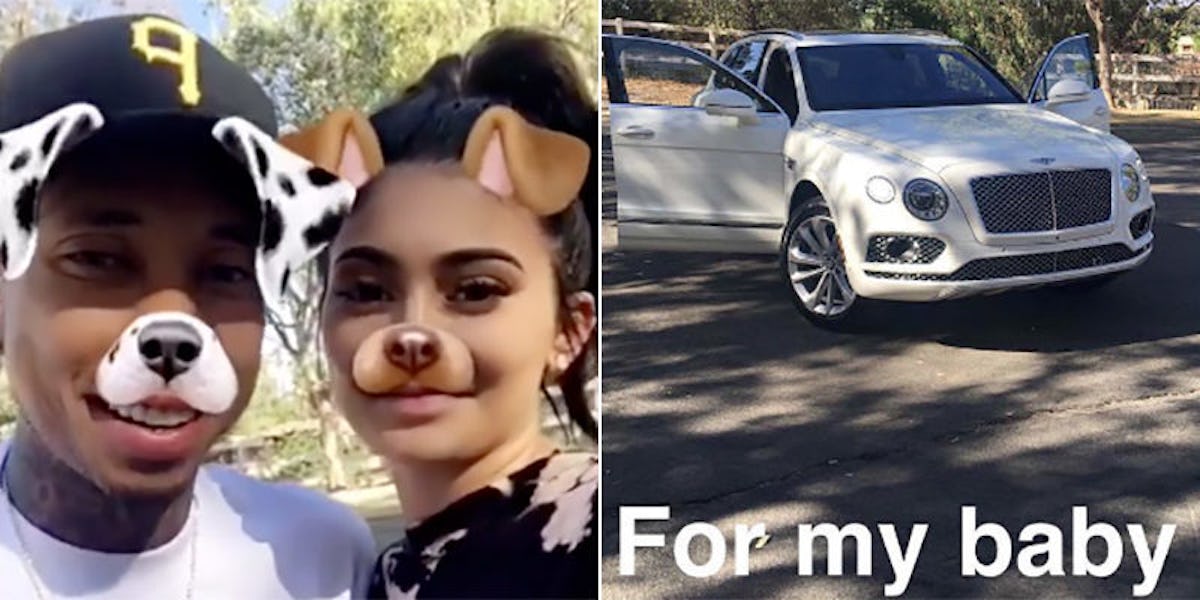 Tyga's Car Was Repossessed, So Kylie Jenner Surprised Him With A New One
Snapchat/Kylie Jenner
Kylie Jenner helped Tyga make one of the quickest rebounds possible.
Right after reports came out that the rapper had parted ways with his Ferrari -- er, actually, it looks like it got repossessed -- the 19-year-old surprised her boyfriend with a new Bentley.
And it seems like that surprise was almost ruined by, well, us, the media.
In a series of videos Kylie posted to her Snapchat for the big reveal, she says her cover was nearly blown by the blogosphere. She said,
So, fake stories came out today and the blogs almost ruined it, said me and T were at the Bentley dealership when really it was only me. And, I had to lie to T and say, 'I have no idea, T, what that story is. I was not at a Bentley dealership.' But I was.
Here she is showing some more views of the new whip.
In the end, it looks like her surprise turned out to be successful, and Tyga said it left him speechless.
And we don't know what planet this dance came from... but OK.
So, it turns out Kylie Jenner actually did more than just lounge around in her underwear on Wednesday. Who knew?
As for Tyga, let's just say this: Regardless of the flack he gets, the bottom line is he's got a girl who won't even let him go 24 hours sulking over a repo'd car. Guys, he's winning at this relationship thing.