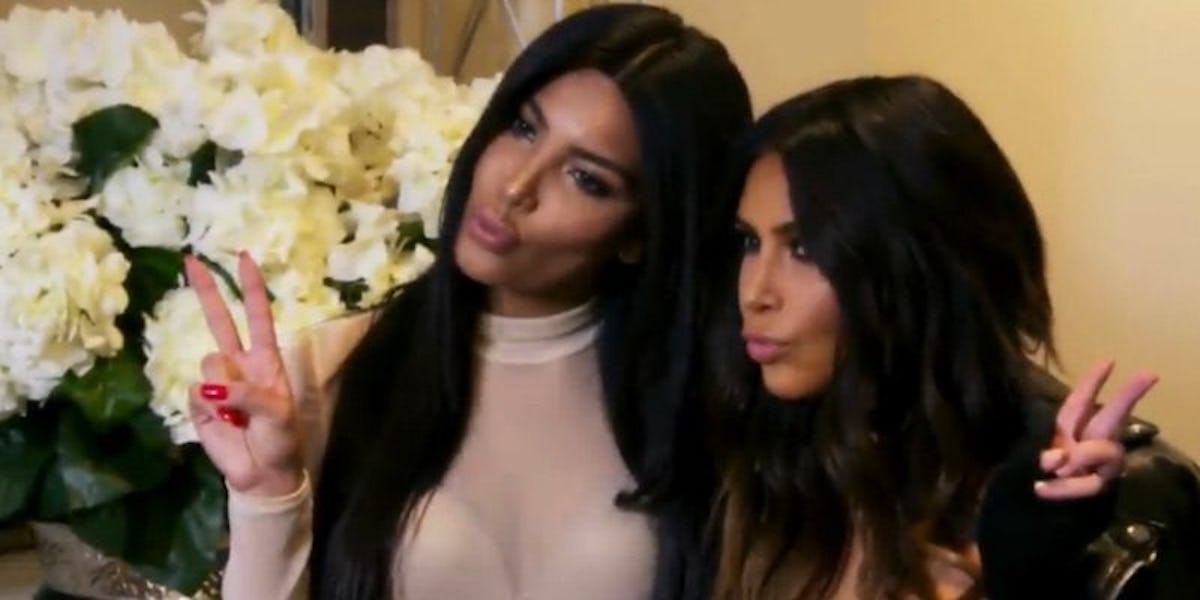 Kim Kardashian Meeting One Of Her Doppelgängers Might Be The Best Thing Ever
E!
Honestly, Kim Kardashian has so many doppelgängers, it's hard for me to keep to track at this point.
I guess that's what happens when your look is 90 percent makeup and 90 percent of the world wants to look like you.
But it was still entertaining to watch Kim pretend to be surprised when she came face-to-face with one of those many lookalikes on Sunday night's episode of "Keeping Up With the Kardashians."
The doppelgänger's name is Kamilla Osman, and she was brought on the show by Kim's friend Jonathan Cheban in an attempt to make Kim jealous.
Mostly, though, Kim just seems weirded out.
Kim says,
This is super awkward. The fact that Jonathan would take it to this level is so bizarre to me. ... Jonathan's trying to rub this in my face and make me feel some type of way, but I don't.
Apparently Jonathan felt Kim was spending too much time with her family, and not enough time with him. So he replaced her with Kamilla, who has learned how to flawlessly style her makeup just like Kim K's.
Well, that's one way to deal with your problems, I guess.
Citations: Kim Kardashian Times Two? Jonathan Cheban Finds a Look-Alike to Replace His BFF in ''Bizarre'' KUWTK Clip (E! News)