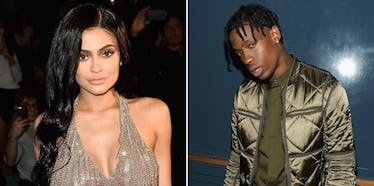 Kylie Jenner Got The Most Romantic Birthday Gift From Travis Scott
Nicholas Hunt/Bryan Bedder/Getty Images
Kylie Jenner turned 20 last week, and before her sisters threw her a surprise birthday party, her boyfriend, Travis Scott, surprised her with an insanely romantic gift that definitely seems inspired by Kanye's gifts to Kim over the years. According to Jenner and Scott's Snapchat stories, Kylie Jenner's birthday gift from Travis Scott was a private string quartet playing for her among giant bouquets of flowers and a gorgeous diamond choker decorated with butterflies.
In a video from Jenner's Snapchat story on August 10 (her birthday), you can see the musicians playing The Beatles' "Here Comes The Sun" (my literal favorite song of all time) followed by other songs. Scott also posted a video of Jenner on his Snapchat story that showed her wearing the choker he gave her. It's a gold choker encrusted with diamonds and what appears to be five diamond-encrusted butterflies. It looks like Travis Scott doesn't mess around when it comes to birthdays, which is good, because neither do the Kardashians.
Kylie Jenner's surprise birthday party was planned by all of the Kardashian sisters, and it looked insane. There was literally an ice sculpture of Jenner's butt. That's not a sentence I ever thought I would write, but here we are.
The party also had gold balloons that spelled out "Kylie," as well as a chocolate fountain, which is where my *ss would've been parked all night if I had snagged an invitation to this celebrity shindig. The party reportedly went down after Jenner went to Travis Scott and Kendrick Lamar's concert at the Staples Center in Los Angeles.
But the most unreal part of Jenner's birthday party wasn't the ice sculpture of her butt... no. It was the birthday cake. Jenner's best friend, Jordyn Woods, was reportedly in charge of getting the cake, and it's a cake that would make my mother scream in terror if my friends ever showed up to my birthday party with it in tow. Would love to see Kris Jenner's reaction to this cake:
Back to the butterfly diamond necklace. It's a piece from Avianne & Co. jewelry and reportedly costs $60,000 (you read that right). The company posted a photo of the necklace on Instagram and wished Jenner a happy birthday saying, "@kyliejenner Happy Birthday from @elliotavianne."
Jenner and Scott have a thing for butterflies. They got matching butterfly tattoos not long after Jenner and Tyga broke up for good, and Scott's song, "Butterfly Effect," is rumored to be about Jenner. Jenner even posted a picture of herself standing in front of a mural of butterflies on Instagram on her birthday, captioned "20."
So even though Jenner and Scott haven't flat-out said they're together... they're most likely together. HBD, Kylie!