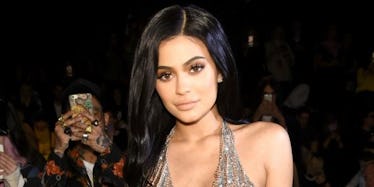 Kylie Jenner's Sisters Threw Her A Birthday Party With An Ice Sculpture Of Her Butt
Jamie McCarthy/Getty Images
Nobody celebrates birthdays like the Kardashians. They ring in every year fabulously and take tons of photos to share with those of us living vicariously through them. Kylie Jenner turning 20 on August 10 was definitely cause for celebration. The Kardashian ladies joined to help honor their baby sister leaving her teenage years. She was born in 1997. 1997 was 20 years ago, people! Sigh. As always, Kylie looked gorg in an all-white ensemble, but something surprising stole the spotlight — Kylie Jenner's naked ice sculpture. Not that an ice sculpture would wear clothes, but it was borderline obscene and definitely awesome. It was everything I didn't know I wanted at my next birthday.
The attention to detail at this party was next level. While the celebration had everything a girl could ever want — balloons and a chocolate fountain — the ice sculpture was unreal. Not only are ice sculptures awesome (you're a liar if you say you don't agree) this one highlighted a few of Jenner's best... assets. The curvaceous sculpture featured Kylie's signature booty, and the proportions seemed pretty spot on. I low-key couldn't stop staring at it, and it looks like the partygoers enjoyed it, too.
All of Jenner's favorite people were there, including her boyfriend, Travis Scott. The party took place after Jenner attended Travis Scott and Kendrick Lamar's concert at the Staples Center in Los Angeles. In the Snapchat below, you can see Kylie enter the party and immediately run to hug Scott. So presh.
The night wasn't all about the BF, though. Kylie's best friend, Jordyn Woods, also brought her own flare to the party. She was in charge of the cake and clearly didn't disappoint. First off, the frosting on the cake looks fluffy AF. Second, Woods chose the most epic photo of Kylie to be featured on the cake with "LOVE YOUR PHAT P*SSY" written on it. Well done.
As you can see, Jenner's birthday party is more amazing than all of my birthdays combined. Life goal: Attend next year's party. Kylie Jenner is unstoppable, and I can't wait to see what she accomplishes this year. Happy birthday, Kylie. Cheers to 20!