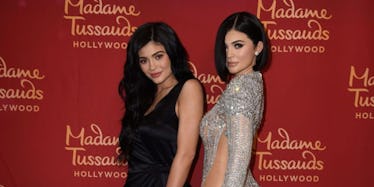 Kylie Jenner Reportedly Requested This One Major Change To Her Wax Figure
Vivien Killilea/Getty Images for Madame Tussauds Hollywood
It's no secret that Kylie Jenner reaches new levels of fame practically every moment of every day. In the time it's taken you to read that first sentence, she probably gained another million followers, dollars, etc. Recently, she received a new honor reserved for mega-stars, and you can now see Kylie Jenner's wax figure at Madame Tussauds in LA. 
The figure made its debut on July 19 and had Jenner freaking out. Upon seeing herself, Jenner exclaimed, "It's me! This is actually really freaky." Well, she should think it looks like her, because she made sure of it. In fact, she allegedly had an integral request to ensure that the figure came out exactly right.
According to E! News, it takes over 250 measurements and over two hours of a celebrity's time to make a matching figure, and in Kylie's case, reportedly one, small/big, adjustment.
Life & Style reports that when the statue was all completely finished, and all was said and done, Jenner allegedly requested to have her figure's butt enlarged before it's debut.
Elite Daily reached out to both Kylie Jenner's team and Madame Tussauds for confirmation, but did not hear back by the time of publication.
The source says,
Kylie insisted they alter her butt. Kylie confessed to pals that she asked Madame Tussauds to give her a bigger butt, and they agreed.
The source added,
Most celebrities want Madame Tussauds to make them look thinner. Not Kylie. She went the other direction!
We have to be honest, we're on Kylie's side. The statue is a perfect match, and so closely resembles the reality TV star that she was able to prank her family when FaceTiming them with her figure. Jenner wrote it "fooled everyone" on her Instagram.
The wax figure is also wearing the real Balmain dress that Jenner rocked to the 2016 Met Gala, and fans can reportedly look forward to catching some behind the scenes action of the wax figure process on Jenner's new series, Life of Kylie, premiering August 6 on E!