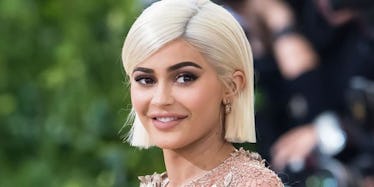 Kylie Jenner's Makeup Line Made An Insane Amount Of Money In Sales And We Are Crying
Gilbert Carrasquillo/Getty Images
Kylie Jenner has dazzled the world yet again. And no, I'm not talking about plastic surgery rumors, dating adventures, or anything about reality television. I'm talking about her lucrative makeup line, Kylie Cosmetics. If you've never heard of her beauty line before, I suggest googling it ASAP because apparently, it's a really, REALLY big deal. Kylie Jenner's makeup line made $420 million in sales and now I'm questioning literally everything. That's right, $420 MILLION. How is this possible? How is anyone this rich? I'm gonna go put on my Walgreen's mascara and cry myself to sleep. BRB.
Kris Jenner discussed her daughter's remarkable makeup sales in a new interview with WWD, confirming the outlandish amount is absolutely correct. Just a quick reminder, Kylie Jenner is 19 years old. Kylie's successful beauty brand brought in millions upon millions in only 18 months, too. And it's set to see a 25 percent increase this year. So, the girl is doing pretty well for herself. Just to put this in perspective, Lancôme made a billion dollars in over 80 years. Kylie will most likely reach the billion dollar mark by year three. So... umm... byeee. Kylie, can I just have like a million or two of that? Pretty please?
Kylie isn't slowing down either. The uber-famous business mogul plans to open her very own Kylie Cosmetics stores. She told WWD during an interview in August of 2017,
I do want stores, my own store. It think it's time people walk into a store and see Kylie Cosmetics.
Damn. She is not messing around here, you guys. Who knew the little baby sister from Keeping Up With the Kardashians would become one of the biggest makeup tycoons in the history of makeup. Not me.