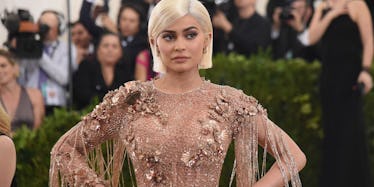 Fans Think Kylie Jenner Is Throwing Shade At Kim Kardashian's KKW Beauty Line
Nicholas Hunt/Getty Images for Huffington Post
Hold onto your lip liner, Kylie, there's a new makeup kit in town.
This Wednesday, June 21, Kim Kardashian dropped her KKW Beauty Line, releasing contour palettes in four different shades: light, medium, dark, and deep dark.
It's been a slow burn leading up to this iconic day as Kardashian teased her line on social media for what feels like centuries. But once it FINALLY got here, two seconds later it was immediately gone.
The palettes sold out in seriously no time. Like, nano-seconds.
This would be impressive if Kylie hadn't already done it herself, like, a lot.
Kylie Jenner changed makeup culture forever with her now famous lip kits, being the first and youngest Kardashian sister to venture into makeup territory.
While the family is no stranger to entrepreneurship, it does seem like it took them a long-*ss time to figure out makeup should be their thing.
According to Twitter, it looks like fans expect sister Kylie Jenner to be really pissed at Kim K for the launch of her makeup line, and at the very least are wondering what she has to say about it all.
And on the day of Kim K's KKW Beauty Line launch, Kylie Jenner did something a little shady on Twitter.
Rather than congratulating Kim or liking any of her tweets, Kylie decided to retweet fans who were tweeting about Kylie Cosmetics instead.
Hmm... suspicious? Maybe.
However, the family is known for their ride or die attitude, and even if you expect there might be shades of jealousy (get it?! like, makeup shades?! OK, OK, OK), don't expect the media to know about it. On the record, these sisters have nothing but love for one another.
Kim even talked about the difference between Kylie Cosmetics and KKW Beauty in an interview with Women's Wear Daily and said,
A lot of my stuff is going to be for skin … [I'm] trying to mirror skin care with makeup. It's going to be a different vibe; it's not going to be a full color cosmetics [range] with shadows and all of that to start. I will probably do some kits here and there of specific [makeup] looks I've done and keep it within the looks. I am older than Kylie. We definitely have a different audience. We do have a lot of similar things — but we aren't doing the same products, so we won't run into that overlap. We're really cautious of that. We work together to make sure that we don't overlap like that. Ultimately, I think once it launches and people see we are a really different brand, it will be able to coexist, but be so separate.
See! No bad blood there.
Of course, Kylie (who is often referred to as mini Kim) helped launch Kim's line with their lip kit collaboration, which was actually part of Kim's KKW Beauty launch.
It could be that Kylie is just embodying her older sister's entrepreneurship spirit and capitalizing on the attention geared towards her product as a result of Kim's launch. One of those "If you contour my face, I'll line your lips" kind of deals.
Regardless, congratulations to both sisters on their success, and pass the contour please.