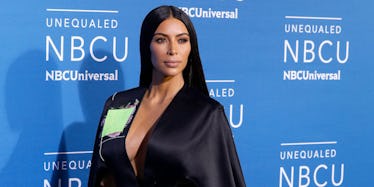 Move Over, Kylie Jenner: Kim Kardashian Started Her Own Makeup Line
Taylor Hill/FilmMagic
We're all finally going to get the chance to look like Kim Kardashian!
The reality star and beauty icon just announced she is preparing to drop her first-ever makeup line next week.
Kim posted three videos to her Instagram account with links to her newly launched beauty supply website, KKWBeauty.com.  We can expect her first beauty line to drop on June 21 (that's next Wednesday).
As all Kardashian fans are incredibly aware, the Kardashian who's become most well known for her beauty and makeup lines is Kim's little sister Kylie Jenner, who's become a bonafide mogul thanks to her popular lip kits.
In fact, Kylie just made her debut on Forbes' annual highest-paid celebrities list as the youngest person among the 100 for 2017. Her estimated $41 million in earnings brought her in at number 59 on the list, just a couple spots below big sis Kim, who earned number 47.
It sure feels like this move into the retail beauty market might step on her little sister's toes a bit, but all in all, it just makes sense for Kim to finally get into the makeup game. After all, her iconic contouring has revolutionized the makeup world, and she's already successfully branched out in nearly every other department, including fashion, social media, and even mobile gaming.
So what can we expect from Kim's first foray into makeup retail? All we really know for sure right now is that KKWBeauty.com will go live next Wednesday, and that following the site's Instagram @KKWBeauty will hopefully give us some more clues before then.
But fans of Kim's iconic makeup looks are already on the edges of their seats, waiting to buy the secrets to Kim's beauty for themselves. According to PopSugar, shoppers can most likely expect variations of Kim's staple makeup items, which include foundations and highlights for contouring, dark and bold eye makeup, and fashionable nude lipsticks.
Be sure that you're ready to log onto Kim's new beauty site right away next Wednesday, because something tells me it's going to sell out fast!