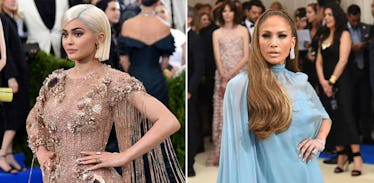 Kylie Jenner Beat Katy Perry And J.Lo On 'Forbes' List Of 100 Highest Paid Celebs
Mike Coppola/Getty Images for People.com and Mike Coppola/Getty Images for People.com
We get it, Kylie Jenner. You're rich AF.
With her insanely popular beauty products, Kylie Lip Kits, games, apps, shared clothing line with Kendall, countless product endorsements, two (count them, TWO) reality TV shows, and a super famous family, the youngest Kardashian/Jenner sister could retire today and live the rest of her life eating caviar for breakfast if she wanted to. (Caviar is like... expensive, right?)
Coming in at number 59 on Forbes' list of the highest paid celebrities, 19-year-old Kylie Jenner is pulling in 41 million dollars a year, making her the youngest celebrity on the list, and the coolest kid at high school graduation.
Kylie tweeted about her accomplishment, saying, "wow woke up the youngest entry on the @Forbes 100 list .. "
That is so weird, I woke up the youngest person in my apartment second to my dog. TWINSIES!
Kylie beat out OG heavy hitters like Bruno Mars, Dolly Parton, Katy Perry, and none other than Jennifer Lopez herself.  J.Lo ranks number 65, earning $38 million. As for Katy Perry? Well, she's number 95, making $33 million.
On top of that, the 100 highest paid celebs have raked in over 5.15 billion dollars combined this past year.
Of course, Kylie's older sister Kim Kardashian was there too, coming in just above Kylie at number 47, making $45.5 million herself.
Ugh, #same #same #same.
Other people of note include The Weeknd, coming in at number six on the list with 92 million dollars to his name. The 27-year-old graced the cover of Forbes magazine and shared his photo on Instagram with the caption, "Homeless to Forbes list".
Of course, I'd be remiss if I got through this entire article without mentioning our number one richest celebrity on this planet, Sean The Man "P Diddy" Combs, who SOMEHOW – like really, I don't know how, but SOMEHOW he did it – made 130 million dollars this year.
Diddy, what the actual F, my man? I'll have what he's having, nah wut I mean?
Congratulations to Kylie and all those who are bigger, better, and richer than me. Happy shopping. You can check out the full list here.