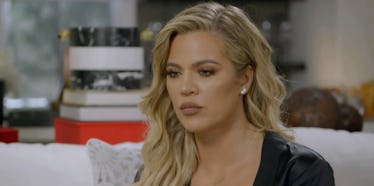 Khloe Kardashian Gets Message From Her Dad In Emotional 'Hollywood Medium' Clip
E! Entertainment
In a recent E! video clip, Khloé Kardashian is seen connecting with her late father, Robert Kardashian.
How? Oh, just a little thing called Hollywood Medium with Tyler Henry, ever heard of him?
Tyler Henry is a 20-year-old "evidentual-based" medium who is able to communicate to the deceased. His big move is to hold an object of the person being contacted, and through the process of scribbling, Tyler explains that while he doesn't hear anything or verbally speak to those who have passed, he is shown a series of messages.
Sign the Kardashians right up.
In a recent clip from an episode airing June 14, Khloé Kardashian sits down with Tyler to contact her late dad, Robert Kardashian Sr.
Robert passed away in 2003 after struggling with throat cancer, which had a major and lingering impact on his daughters, as we have seen throughout the years on Keeping Up With The Kardashians.
In the video, Tyler explains to Khloé that it appears Robert wanted to pass away while his family was not next to him.
He explained,
There's a feeling of like, 'I don't want you to be there when I'm actually passing away .. It's like, 'For your sake, I want you to just not have that in your memory.'
Tyler received this message by holding on to a toy monkey that Robert had with him when he died, as explained by Khloé. She has since held on to the monkey, keeping it with her in her various homes over the years.
Tyler continued,
There's a feeling when this comes through that he actually would've timed his passing. The feeling is that he was holding on and he was waiting and that would've been done with purpose and with intention.
Off-camera, we are briefly shown sister Kylie Jenner, who meets with Tyler as well during the full episode. She is heard saying how interesting Tyler's feedback is, as she recalls her sisters and mother were not next to Robert's side when he ultimately passed.
To catch the whole story, you can tune in to see what other discoveries Tyler brings to Kylie and Khloé.
Hollywood Medium with Tyler Henry airs Wednesdays at 8 p.m. ET/PT on E!