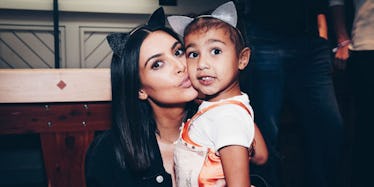 Kim Kardashian Revealed The Name Of North West's New Puppy And Fans Aren't Happy
Rich Fury/Getty Images
For what feels like weeks, we've all been sitting here anxiously awaiting the big announcement, and Kim Kardashian has finally given us an answer.
That's right, we now know what North West named her new puppy!
What? Did you think she addressed those surrogacy reports? I'm sorry I got your hopes up, but this puppy information is seriously juicy, too.
For her fourth birthday, North West received a puppy (her cousin Penelope Disick, who is about to turn 5, also got one), and naming the little fur ball was quite the process.
Kim K began tweeting about the naming process last week, stating North wanted to name her "Mercy."
This caused quite the Twitter reaction, as Kim K used to have a cat named Mercy.
Then, the 36-year-old mom decided to poll Twitter for an answer.
In the meantime, Penelope went ahead and named her puppy Honey.
Well now, finally, North has caught up to her older cousin and chosen a name for her sister pup – and it's not what Twitter decided. Drumroll please...
The dog's new name is Sushi!
Unfortunately, Twitter isn't too thrilled with that choice.
(What? Did you think Twitter wasn't going to have a strong opinion about a 4-year-old's choice of name for a dog?)
Some people are simply mad the votes didn't mean anything.
Others are super pissed their choice didn't win.
And others are just, well, angry.
If North West turns out to be anything like her Aunt Kylie, though, there will be plenty more dogs in her future, so perhaps the rest of the names on the Twitter poll will get recycled.
And don't worry. If you thought all North got for her fourth birthday was a dog, think again.
She and Penelope also celebrated in style with an epic Moana-themed birthday bash.
I think it's pretty clear North and Penelope like princesses, puppies, and based on their new dogs' names, food.