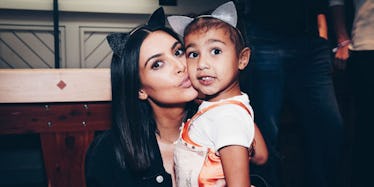 Kim Kardashian Gives North A Puppy For Her Birthday, And You'll Fall In Love
Rich Fury/Getty Images
In the event you haven't been keeping up with the Kardashians lately, we're here to bring you the 4-1-1, so it's not a problem if you're a bit behind.
On Thursday, Kim Kardashian celebrated North turning 4 years old.
"My baby girl turned 4 years old today! She's my light & my everything!!! I love you to the moon & back North," Kim wrote on Instagram.
On her app, she wrote, "Happy birthday to my mini me! I can't believe you are 4 already. I love you so much, Northie!"
You can check out this cutie's best moments — and outfits that are more stylish than yours — in a video compilation that was also posted on Kim's app.
Of course, the Kardashian-Jenner fam followed along and posted their own well wishes for baby Nori on social.
D'aww! So cute. We're lovin' those shades, Nori.
Like most 4-year-olds — or 27-year-olds, in my case — there's always that one special thing on everyone's birthday list: a dog. Mama Kardashian-West delivered, folks, and treated her tiny tot to a new Pomeranian.
We're falling in love with the pup as we speak. Have a look for yourself and try not to swoon over the best birthday gift known to man.
Kudos to you, Kim. Any kid (or 27-year-old, as previously mentioned) would absolutely go gaga over a new pooch. We can only imagine how excited North must be, and understandably so.
We just hope you're not up too late taking care of the kids and the new pup now that your KKW is launching in a matter of days.
During an interview with Forbes, Kim said,
We're launching with a contour kit. So, a contour, my favorite. I think with everything that I've done, I change my looks up all the time, but the one thing that's consistent is contour. So we're doing a cream contour with the launch with an amazing dual-ended brush to blend it, and there's a highlighter kit with it.
We've got makeup on the brain — specifically contour — so you better get some beauty sleep, Kim!