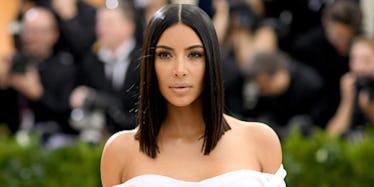 Kim Kardashian Reveals First Product From Her KKW Beauty Line And We're Pumped
Dimitrios Kambouris/Getty Images
In case you missed it, Kim Kardashian is finally coming out with her own makeup line called KKW Beauty, available on June 21 at KKWBeauty.com.
The reality star announced the line on Instagram yesterday and across her other social media platforms.
Kardashian spoke at the Forbes Women's Summit on Tuesday, June 13, about her empire and where she's taking it next. She was interviewed by Steve Forbes, the chairman and editor-in-chief of Forbes Media.
In the talk, called "Evolving The Empire: Kim Kardashian West on Reigning Supreme," she revealed she's also coming out with a new fragrance. She said,
…In the same beauty world, I'm launching a fragrance at the end of the year ... these are all projects I'm doing full ownership …  every last detail from the box, to the packaging, to being in the factory, and feeling every packaging detail … I'm a hundred percent involved in and that's so prideful for me…
So what do we know about the KKW Beauty line? We know the products are going to be inspired by the products Kardashian uses herself. She likes to focus on strong brows, contour, and nude lips, so get ready for some bomb products coming your way.
But now we know for sure the first product from the line will be a cream contour kit! Kardashian made the announcement on her Snapchat yesterday, and spoke more on it during an interview with Forbes.
In the above interview, she said,
It's KKW Beauty, and we're selling just online. And we're launching with a contour kit. So, a contour, my favorite. I think with everything that I've done, I change my looks up all the time, but the one thing that's consistent is contour. So we're doing a cream contour with the launch with an amazing dual-ended brush to blend it, and there's a highlighter kit with it. It all comes together.
GOD BLESS AMERICA.
My only question is will this contour kit look good on a pale-a** white girl? Please let me know, Kim. You can DM me.
She continued,
We're going to see everything that has been my favorite products that I use all the time ... Hopefully every month we'll have a drop of another product. I'm focusing on skin and the contouring, and concealer, and all my favorite things will be coming out soon.
ERASE MY FLAWS, KIM. THEY COME IN BULK.
According to Kim K, all of the products will be made in a factory in California so she can oversee the production. She said, "It's been really exciting going through this journey and doing it all by myself, and really figuring it out."
Proud of you for having your life figured out, Kim. LAWD KNOWS I DON'T.