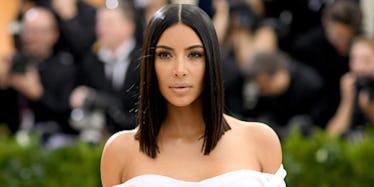 Kim Kardashian Shares Details On New Beauty Line And Fragrance At 'Forbes' Summit
Dimitrios Kambouris/Getty Images
Kim Kardashian took the stage at the Forbes Women's Summit on June 13 to deliver a powerful speech about creating a global empire.
More than 300 guests gathered in New York City for the event, which brought together a group of influential speakers and women's rights activists.
Kardashian gave a talk entitled "Evolving The Empire: Kim Kardashian West on Reigning Supreme" which focused on her business ventures and how the 36-year-old reality star built one of the largest social communities in the world.
She was interviewed by Steve Forbes, the chairman and editor-in-chief of Forbes Media.
When asked about her new business venture, Kim K teased the launch of her new makeup line, KKW Beauty.
The star said her new line is available for purchase soon via KKWBeauty.com. She also mentioned she'll be launching a fragrance:
...In the same beauty world, I'm launching a fragrance at the end of the year ... These are all projects I'm doing full ownership ... every last detail from the box, to the packaging, to being in the factory, and feeling every packaging detail ... I'm a hundred percent involved in and that's so prideful for me...
YES, KIM, YES.
Kim Kardashian went on to discuss how she uses different social platforms to promote her personal brand.
The star is obviously extremely active on Snapchat, Twitter, and Instagram, so she shared what she gains from posting on certain channels.
Snapchat, for example, is the perfect tool to "show your everyday life," according to Kim. She said she plans to utilize Snapchat while she works on her new beauty line so followers can go behind-the-scenes with her in the factory and witness her creative process.
For Twitter, Kardashian discussed the importance of using her following as a focus group. She said,
I love the conversation with people. I think people love to promote, but for me, I listen a lot.
The star has 53.5 million followers on Twitter and made it clear she listens to what her fans are saying:
The most important thing is being authentic and listening.
For Instagram, Kim says she mostly uses it because she "loves to post photos" and it allows her to be really artistic with certain shots.
However, she did mention there is quite a bit of pressure keeping up with a following as large as hers. She explained,
If people think you just post and it's so easy, it's not. I like my Instagram to look a certain way and I'm really a lunatic about it because sometimes there is so much pressure to post, too.
Kim Kardashian did, of course, take a break from social media after the terrifying Paris robbery attack.
When asked about her break, the entrepreneur put it simply:
When you take time for yourself, magic happens...
Preach, Kim K, preach. We can't wait to see what new projects you take on next.
If you'd like to hear more from Kim Kardashian at the Forbes Women's Summit, be sure to check out the hashtag #RedefinePower for powerful quotes on Twitter.