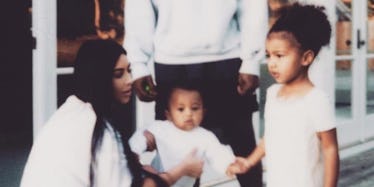 Kim Kardashian Posts On Social Media For First Time Since Paris Robbery
Instagram
SHE'S BACK!
After a three month hiatus from social media, Kim Kardashian West has made her return to the web.
The 36-year-old social media mogul broke her internet silence earlier today, posting the following picture of her, Kanye, North and Saint to her Instagram page.
She uploaded the same picture to her Twitter account.
Notably, she also changed her Facebook page's profile picture and cover photo.
Earlier today, there was buzz of a potential web comeback for Kim after she posted a video compilation to her website of some family home videos.
This was promptly followed by a gaffe in which she deleted the name "West" off her social media accounts before putting the name back up.
The last time she posted to her social media accounts was back in early October.
Following an incident where armed robbers held her at gunpoint in a Paris hotel, Kardashian took a social media vacation, only making occasional cameos on her sisters' various web platforms.
During the Paris robbery, her assailants reportedly bound and gagged Kim before locking her in the bathroom.
While she was in there, the robbers got away with anywhere between $6 million and $11 million in jewelry, including her diamond engagement ring.
Her website has been frequently updated since the robbery, but it's all been posts by her assistant or guest celebrities.
This was the last picture posted before the attack and her break from the web.
During her recovery from the robbery, Kim was also dealing with Kanye's mental breakdown.
After a series of weird rants and early exits from shows on the Saint Pablo Tour, the 39-year-old singer abruptly canceled the rest of his tour back in November, hours before being admitted to UCLA Medical Center for psychiatric evaluation.
Sources close to the family cite Kim's robbery as one of the reasons for Kanye's breakdown.
Hopefully 2017 is better for the Kardashian-Wests! Welcome home, Kimmy!