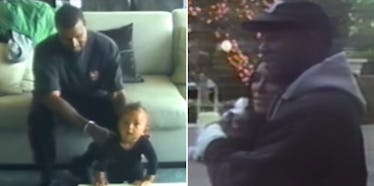 Kim K Posts Intimate Home Videos Of Kanye And Kids That Will Make You Tear Up
Kim Kardashian App
Those of you still waiting on your first cry of 2017 need not look any further because round two of the Kardashian-West touching family video rollout hit Kim's app on Monday.
Diehard Kimye fans wept immoderately back in October when Kanye released a birthday video for his wife, set to "Only One" and featuring old home videos of Kim and her father, the late Robert Kardashian Sr.
Now, Kim is the one sharing sob-worthy family footage in a two-and-a-half minute video of the couple and their children, North and Saint.
Saint, whose head is a perfect circle, despite the mathematical improbability of such an occurrence, looks delicious even when he's letting puke fly all over the carpet.
Kim and Ye are everyone's parents, beaming as they watch their precious human creation North literally sit still and do nothing on the merry-go-round with cousin Penelope.
Kimmy crab walks backward in stilettos because Yeezus forbid she slum it in Crocs while teaching her son to walk solo.
There's even some mildly meta footage of Kim watching Kanye's birthday gift to her live in concert.
It's comforting to see the Wests at peace following a hellish 2016 that included Kim's Paris robbery, Kanye's hospitalization and his ensuing Saint Pablo Tour cancellation.
Rumors the couple's recent setbacks have driven them to separate seem like worthless sewer waste when this video and Kimye's latest public appearances together prove hard times have only brought them closer.
If these two can create a human life with a geometrically flawless circle for a head, there's no horror they can't overcome.
The world is rooting for you, Kimye, all the while letting the salty tears roll down our cheeks while we watch this video at our desks and pretend we're still jaded about love.
We are not, for you have shown us what can be if we believe.
~I am one with the Kimye. The Kimye is with me.~
Citations: Kim Kardashian West