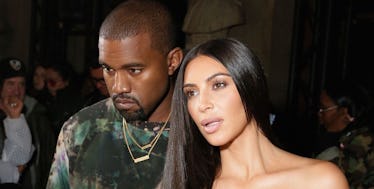 Kim K And Kanye Step Out Together For First Time Since Kanye's Hospitalization
REX/Shutterstock
EVERYONE KEEP IT TOGETHER. Kim Kardashian and Kanye West are still going strong.
After the "Famous" rapper was hospitalized for having a psychotic breakdown, rumors of a potential divorce between the couple began to spread.
However, on Sunday night, Kim and Kanye made their first public appearance since Kanye was released.
According to TMZ, the two went out to dinner at Giorgio Baldi in Santa Monica.
Kimye hasn't gone out since before Kim Kardashian was held up at gunpoint in Paris, so it's been quite some time since they've been on a public date.
TMZ also believes the couple went to Giorgio Baldi with the intention of being photographed. The restaurant is apparently a poppin' spot for the paparazzi, so maybe Kimye was trying to put rumors to rest.
A few of the photos show Kim leaving dinner wearing minimal jewelry and makeup.
She also rocked a giant fur coat.
Like, that thing is fucking huge. LOOK AT IT.
Oh, and Kanye wore aqua blue pants. Date night! How cute.
It's nice to see Kim and Kanye spending time together, because a source recently told People Kim has been getting upset with her husband. The insider said,
Kanye is supposed to rest and focus on his mental health. Instead, he has had a very busy week and is done resting. Kim acts annoyed. She also seems miserable and is spending a lot of time with her family. Kim and Kanye have been spending time together behind closed doors and no less than usual. They both do their own thing a lot of the time but they're constantly checking in with each other about things — and especially about the kids.
Shit. Well, I guess these photos prove things are OK.  Kim Kardashian and Kanye West are all good, folks.
I think it's best if we refocus our attention on Blac Chyna and Rob Kardashian for now. Yeahh, uhhhh, their relationship could use some help...
Citations: Kim Kardashian Public Appearance With Kanye West (TMZ)