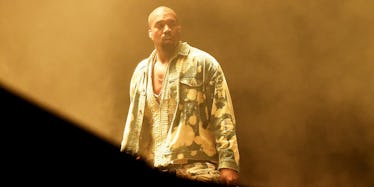 Kanye Looks Miserable In First Pics Of Him Out In NYC After Hospitilization
REUTERS
Keeping up with Kanye West is harder than keeping with the Kardashians these days.
So if you're coming into this raw, basically Kanye's just spent three weeks in the hospital recovering from a psychotic breakdown.
But he doesn't look fully recovered. At all.
The 39-year-old was spotted walking around New York City looking extremely unhappy. I know what you're thinking: It's not like Kanye to wear a smile. True, but this is different. The rapper looks seriously depressed. His eyes look completely cold and dead.
He was seen leaving the Waldorf Astoria hotel, still sporting blonde hair, then later that day wandering around the SOHO area.
It's not known if he's thrown himself back into his hectic lifestyle. His wife, Kim Kardashian, is said to be "annoyed" at the situation.
Rumors of an impending divorce are rife, however, nothing suggests this is the case. A source told People,
Kanye is supposed to rest and focus on his mental health. Instead, he has had a very busy week and is done resting. Kim acts annoyed. She also seems miserable and is spending a lot of time with her family. Kim and Kanye have been spending time together behind closed doors and no less than usual. They both do their own thing a lot of the time but they're constantly checking in with each other about things — and especially about the kids.
Kanye was taken to hospital after battling extreme exhaustion.
At the time, friends said he would stay up for 48 hours at a time, which is hardly surprising. He's trying to run a music and fashion empire -- throw a life with Kim Kardashian in there, and that's enough to break anyone.
Meanwhile, members of the Kardashian clan have filmed scenes for KUWTK in which they discuss Kanye's breakdown because nothing is sacred.
Citations: People