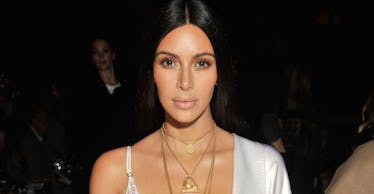 Upsetting New Photos Show Kim Kardashian Out In Public Again
REX/Shutterstock
New photos of Kim Kardashian have surfaced, and she still doesn't look like herself.
Roughly three weeks ago, Kim Kardashian was held up at gunpoint in her Paris hotel room.
The mother of two has kept a low profile since the terrifying incident, staying indoors and out of the public eye.
On Monday night, the 36-year-old reality star was spotted getting ice cream in Los Angeles with her best friend Jonathan Cheban.
In the photos captured, you can see a somber Kim Kardashian out in public wearing a plain white sweatshirt, looking down and holding an ice cream cone.
She appears to be wearing a sweatshirt similar to the one she had on when she left her New York apartment for the first time following the attack.
Footage captured by paparazzi showed Kim Kardashian holding North West as she hopped into a black Escalade outside of her apartment.
Since returning to LA, the star has been spotted one other time while getting dinner, and she looked unrecognizable then, too.
An insider told E! News Kim was "with security" and "looked very downcast and somber." She stepped out of the house to make a brief stop at an Italian restaurant in Beverly Hills.
Another source spoke with the outlet and shared an update on Kim's status, saying,
Kim is doing better but she still has a long way to recover from the robbery. She has been receiving some professional counseling. Her friends and family have been really supportive. Her sisters and mom have been checking on her every day.
Khloé Kardashian and the rest of Kim's family shared supportive messages for the star on her 36th birthday last Friday.
Kanye West even made a beautiful video montage highlighting special moments from Kim's childhood.
The star has not yet broken her silence on social media, but it's nice to see her out enjoying the company of family and friends.
Citations: Photos Of Kim Kardashian Getting Ice Cream (TMZ)