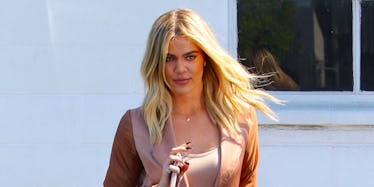 Khloé Wished Kim Kardashian A Happy Birthday On Instagram: 'Love You Keeks'
REX/Shutterstock
On October 2, Kim Kardashian was bound, gagged and robbed at gunpoint in her Paris hotel room. She has not posted on social media since the traumatic event.
While she was physically unharmed, the star is currently rethinking her usage of social media. The only evidence we have regarding any possible return is her app and website, which are still up and running.
So, in honor of Kim Kardashian's 36th birthday, her friends and family are posting touching tributes to the reality TV star.
Kim's mother Kris Jenner posted a number of old photos of Kim.
Happy Birthday to my precious Kimberly! @kimkardashian I love and adore you… you have brought so much joy into all of our lives and you are the most wonderful daughter, wife, sister, friend and mom. I thank God every day he blessed me with you and I cherish every single moment and memory. My heart is full of gratitude and I love you more than you will ever imagine or know… Mommy xo
Kris also posted a video of her daughter's second birthday to Kim's website.
Jenner wrote,
To My Beautiful, Amazing, Precious Daughter Kim, I love you more than words will ever begin to express. I remember your second birthday like it was yesterday. I remember the smile on your face, the joy in your eyes, and the fun and excitement of everyone who was there. 'I remember what we ate, what we wore and I especially remember your unforgettable laughter. You have been one of the most amazing loves of my life since the day you were born and I am so blessed that God chose me to be your mom. 'Now you have your own two little angels to love and make memories with, and I thank God every day for every moment we spend together. Happy birthday, Jouge! I love you more than you will ever know!
Kendall posted this flashback photo to her Instagram with two simple heart emojis as the caption.
Meanwhile, Kylie wrote, "Happy birthday Kimberly. I love you sister."
And now Khloé Kardashian has her own special message for her sister on Kim's birthday.
She wrote,
Happy birthday my Keeks! You're truly one of the most amazing people I know! I've never known someone as special as you! I'm truly proud to be your sister and best friend! I love you Keeks. Forever and a lifetimes to come.