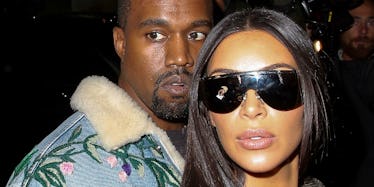 Kim Kardashian Said She 'Can Handle' Lack Of Privacy Before Paris Robbery
REX/Shutterstock
After Kim Kardashian's harrowing robbery, where she was held at gunpoint and had millions of dollars of jewelry stolen in her apartment in Paris, the reality TV star has yet to return to social media.
In fact, her assistant, friends and family have been trying to create content for Kardashian's website to appease her subscribers.
Despite Kim's silence, people are still honoring her on social media for her birthday, on platforms she had once said she owes her career to.
Kim's mother Kris Jenner took to Instagram to give her this special shoutout:
Happy Birthday to my precious Kimberly! @kimkardashian I love and adore you... you have brought so much joy into all of our lives and you are the most wonderful daughter, wife, sister, friend and mom. I thank God every day he blessed me with you and I cherish every single moment and memory. My heart is full of gratitude and I love you more than you will ever imagine or know... Mommy xo
The scary incident has left Kim K rethinking her online presence all together.
In a "60 Minutes" interview, which took place before the robbery, she said about the Internet,
There are pitfalls. Lack of privacy, loss of privacy. That's not for everyone. For me, I can handle it.
She even admitted that without social media, which is being blamed for Kim K becoming a target for these criminals after she posted numerous shots of her jewelry, she probably would not have the career she has now. She said,
Not in this way. I totally attribute my career to social media.
When the interviewer said that Kim had found a way to build a career out of her daily life, she said, "I guess so, yeah."
So what will her career consist of now that she is shying away, and rightly so after such a scary event, from the media?
The entire interview with Kim will air on Sunday, October 23 at 7:30 pm EST.
Citations: Kim Kardashian Says She Owes 'Career to Social Media,' 'Can Handle' Lack of Privacy in Pre-Robbery Interview (ET Online)