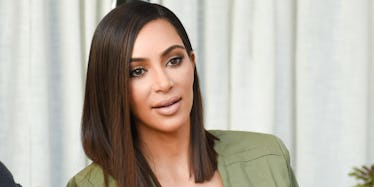 Kim K's Website Updated With A Handwritten Note: 'Stay Tuned For New Posts'
REX/Shutterstock
Kim Kardashian's assistant Steph Shep has broken her silence by updating Kim Kardashian's app with a handwritten message.
Around 7:30 pm EST, Kim's app notified fans there was a "note from Steph Shep" posted online.
The full note was written in cursive and has been transcribed below:
hey group, so you may have noticed we haven't updated the app in a couple weeks Keeks is taking some much needed time off. But not to worry cuz We've called upon Kim's closest friends, fam & yours truly to serve up some exclusives Stay tuned for new posts and app takeovers!! thank you so much for your support for my girl Love you mean it! Steph Shep
As previously reported by Elite Daily, Kim Kardashian was held up at gun point in her Paris hotel room and robbed by five masked men.
The 35-year-old mom of two was gagged and bound in the bathroom and forced to plead for her life. 
That night, Kim was FaceTiming Blac Chyna to wish her a happy baby shower. It was one of the last Snapchats she posted online before the attack.
Kim has kept a low profile since the terrifying incident, canceling public appearances and avoiding social media all together.
Steph's letter to Kim's fans is the first posted on her app since the robbery.
Kim was recently spotted leaving her home in Los Angeles but looked almost unrecognizable in a black hooded sweatshirt and tennis shoes.
A source told E! News,
She was with a female friend and looked very downcast and somber, not wanting to be seen.
Another source told the outlet Kim is "recieving some professional counseling." The insider added,
Kim is doing better but she still has a long way to recover from the robbery... Her sisters and mom have been checking on her every day.
It's unclear when (or if) Kim will speak out about what happened, but right now it sounds like she's focusing on spending time with friends and family to recover.