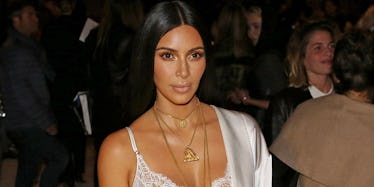 Photos Of Kim K Out In LA For First Time Since Robbery Are Heartbreaking
REX/Shutterstock
Kim Kardashian was spotted leaving her home in Los Angeles for the first time since the Paris robbery.
The 35-year-old reality star was held up at gunpoint while five masked men stole multi-millions worth of jewels from her hotel room.
After the terrifying incident, Kim Kardashian has kept a low profile, canceling her public appearances and avoiding paparazzi at all times.
But late Thursday evening, the mother of two was photographed on her way to an Italian restaurant.
Kim Kardashian, wearing just a black sweatshirt and sneakers, looked almost unrecognizable in the images captured.
An insider told E! News Kim was "with security" and "made a brief, 30-minute trip to a restaurant in Beverly Hills."
The source added,
She was with a female friend and looked very downcast and somber, not wanting to be seen.
Since returning to the States, the star has only been photographed one other time.
Last week, Kim was seen leaving her apartment in New York City holding North West.
Kanye West joined his wife with Saint in his arms. The family was visibly shaken as they hopped into a black Escalade out front.
According to Kim's rep, she's slowly recovering but still "badly shaken."
Another source told E! News,
Kim is doing better but she still has a long way to recover from the robbery. She has been receiving some professional counseling. Her friends and family have been really supportive. Her sisters and mom have been checking on her every day.
The Kardashian-Jenner family recently celebrated the last day of filming "Keeping Up with the Kardashians" Season 12, but Kim refused to attend.
It's unclear when (or if) Kim Kardashian will speak out about what happened, but regardless, our thoughts are with her during this time.
Additional photos that were taken of Kim on her way to dinner can be viewed here.
Citations: Kim Kardashian Spotted Leaving LA Home (E! News)